Massachusetts real estate turned in a pretty good performance in 2009, given how dire national economic conditions were at the start of the year.  Greater Boston single family homes prices are up 6% from their March 2009 lows.  MA single family home sale volume rose 4.2% in 2009 compared to 2008 levels, while the inventory of homes for sale in Massachusetts had declined by year's end.
Pretty good given that respected economists were predicting the advent of the Second Great Depression back in January 2009!
2009 MA real estate recap video
Here's a YouTube video I created that reviews the 2009 MA real estate market, with a special emphasis on how Franklin, MA homes for sale fared in the year just past:
Franklin, MA real estate stronger than the MA average
The results for Franklin, MA real estate were even better in 2009 than how the overall MA market fared: median home prices rose slightly for the year to $400,000 (from $397,500) while single family home sale volume surged a bullish 9.5%.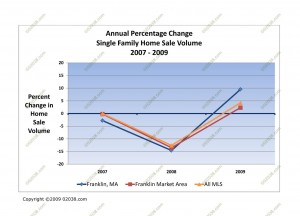 Low supply of homes for sale
By the end of 2009, Franklin home for sale inventory had reached an astonishingly low 3 months.  This is very encouraging news for home sellers and should help support home prices in 2010.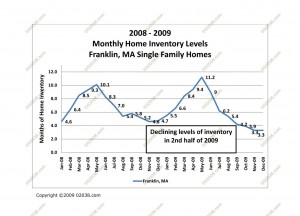 Top home sales in Franklin, MA for 2009
Franklin had quite a number of high priced sales in 2009.
 The top 4 home sales in town were each over $800,000 . . . certainly not a sign of a market in distress!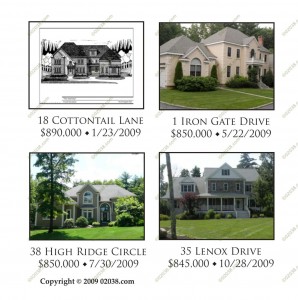 Optimism and the risks going forward

There are a lot of reasons for optimism for the 2010 real estate market and beyond.
But there are some obvious risks for the MA housing market as well.
The three most relevant potential threats to the health of the MA housing market in 2010 seem to be:
1. A sharp and sustained rise in mortgage interest rates.
2. The Federal government prematurely curtails economic stimulus, causing a double-dip recession.
3. A major terrorist attack severely disrupts the US economy.
But there are always risks and uncertainties in life.  Optimism and investing for your future have always paid off in the long run, no matter what shape the economy is in.
So here's to a happy, safe and prosperous 2010!

Copyright ©2010 02038.com