Two reports issued separately last week paint a relatively upbeat picture of Massachusetts real estate as we get ready for the Spring 2010 prime home selling season. 
2009 MA home sale volume up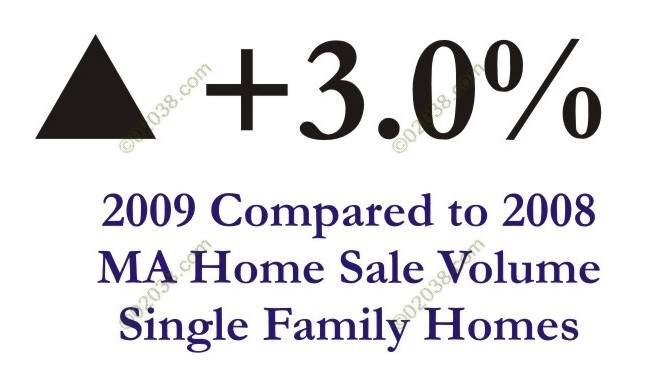 The Warren Group, publisher of the influential real estate trade publication Banker & Tradesman, released annual home sale figures Tuesday showing a three percent rise in MA home sale volume for 2009 compared to 2008.  The rise marks the first time annual single family home sales in Massachusetts have risen in the past five years.
Boston home sale prices slump modestly

In another report also issued last Tuesday, Standard and Poors posted its November 2009 reading of the S&P/Case-Shiller Home Price Index for Boston. (There is a 2 month lag in Index reporting).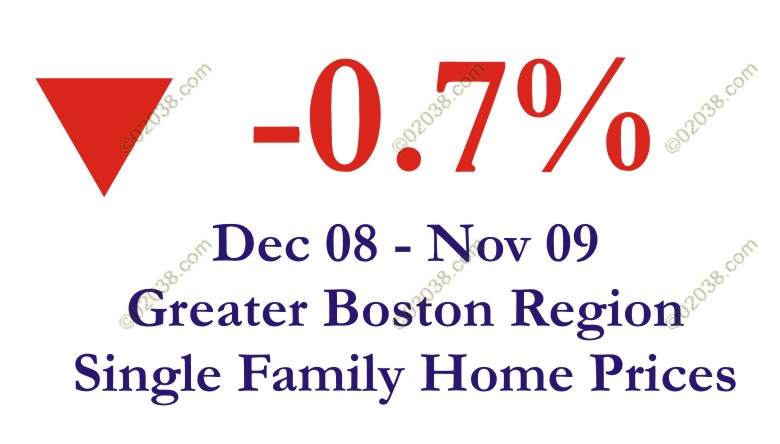 The Index showed only a slight 0.7% drop in Boston area home prices over the last 12 months (from December 2008 – November 2009.)  
Greater Boston home prices rise from 2009 lows

From its low set back in March 2009, the Index has risen 5.6%, peaking in August 2009 before settling back down a bit in following months.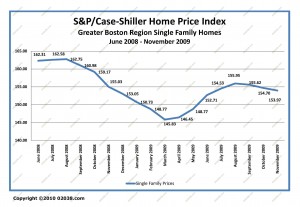 Seasonal home price slumps
We have seen such home price slumps occur over the last several years, following a fairly regular pattern.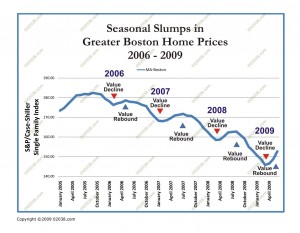 As you can see from the above graph, Boston metro home prices over the past several years as tracked by the S&P/Case-Shiller Home Price Index have peaked during the summer months and have fallen back during the cold, dark winter months.
We will watch the S&P/Case-Shiller Home Price Index very closely over the upcoming several months to see if MA home prices resume their recovery as the spring home selling season gets underway.
Keep checking back for updates!

Copyright ©2010 02038.com