The top four and bottom four single family home sales in Franklin, MA for January 2010 mark a fairly unusual month for property sales in the Franklin community.
Low home sale prices
January's transactions reflect some remarkably low home sale prices for Franklin, Massachusetts.
At just $82,000, 60 Alpine Place was by far the lowest-selling single family home in Franklin for the past 12 months.  (The next lowest home sale in Franklin over the last 12 months was slightly in excess of $140,000.)
60 Alpine was a post-foreclosure REO sale.  The house is small but was perfectly habitable when I visited it. 
The home abuts a major fuel oil delivery business, so the large fuel oil storage tanks do loom immediately behind the house.  Not the best setting for a residence!
Highest-priced home sale in January

15 Lockewood Drive was the top sale in Franklin for January, 2010. 
It's noteworthy because at $544,000, the selling price for this home is exceptionally low for a "top home sale of the month" in Franklin, MA. (Home prices in Massachusetts are high!)
The selling price for this home derives from its relatively small living area. (2,796 sq ft for a "top home sale of the month" in Franklin is notably undersized.)
Otherwise, the neighborhood setting for this property is good and the home is appealing on the inside.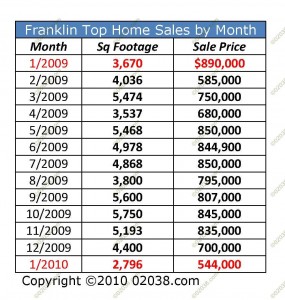 The chart above shows the selling prices and living areas of each of the highest-priced home sales in Franklin each month going back to January, 2009.  It demonstrates how the "top sale" for January 2010 was relatively small and low-priced compared to all of the other top monthly home sales.
Signs of life in January
January is usually a pretty subdued month for real estate in Massachusetts.  The holidays have just ended.  Days are short and the weather is often cold and snowy.
 Despite the advent of winter, there have been recent signs of strength in the local real estate market.
Home sale volume was up across MA for 2009 while Greater Boston home prices are off their lows set last March.
The 2009 Greater Boston Housing Report Card cited Franklin, MA as enjoying a particularly strong real estate market.
The Report Card took pains to describe in detail a likely sharp future rise in Massachusetts home prices once an economic recovery gets firmly established.
More MA housing market insights
Click the link to see a video recapping the 2009 MA real estate market with a special focus on home sales in Franklin MA.
You might also enjoy another video on how the Federal home buyer tax credits may affect area home sales in 2010.
If you are a homeowner thinking of selling, simply click the link to order a home value report for your current property.
And you can use this link to search the Realtor® database of 1000s of homes for sale in the Route 495 region of Massachusetts.

Copyright ©2010 02038.com