In a move designed to reduce costs and increase recycling, the Town of Franklin, MA has adopted a new system for municipal trash pick-up.
One container for trash, one for recyclables
Called "single-stream recycling and automated trash pick-up," the service uses two separate automation-compatible "toters."  One toter is for trash disposal only.  The other toter allows town residents to combine all recyclable materials (cans/bottles and paper/cardboard) into that one container.
Each Franklin home will get only one recycling toter and one trash disposal toter.  The two containers will the only ones allowed in the new program.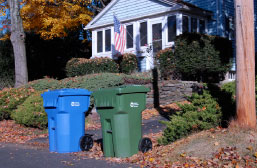 Automated trucks will do pick-up
A special truck with an automated arm designed for use with the toters will handle street-side pick-up. The arm seizes, lifts, empties and return the toters to the street curb.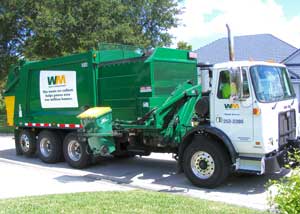 Bulky items cost extra?
In other MA communities that have adopted single-stream automated trash pick-up, residents' old trash barrels and recycling bins were allowed to be recycled via a special pickup or drop-off program implemented by the municipality.
Bulky items that do not fit into the disposal toter may be assessed an additional disposal fee ($25 in some other MA communities). 
This new program should save Franklin residents money and make recycling easier, so this is a change for the better!
(Note that the photos contained in this post do not represent the containers and the trucks that will be used in Franklin, MA's program.)
Copyright ©2010 02038.com