Inventory levels of condominiums for sale in Franklin, MA showed a marked improvement in February 2010. This continued the trend towards absorption of standing condo inventory noted in January.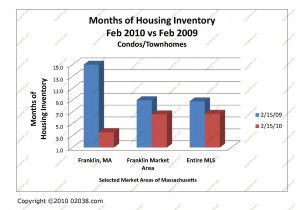 Franklin condo sale volume recovers
Sales of Franklin condos recovered strongly in the second half of 2009.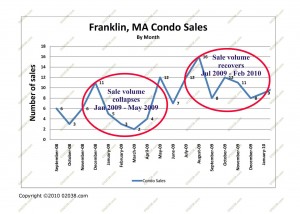 Sale volume had cratered during the first half of 2009, reaching a shockingly low two sales recorded on the MLS in March.
Condo sales in Franklin, Massachusetts rebounded starting in July 2009.  For the past 6 months (August 2009 – January 2010) average condo sales in Franklin have exceeded 10 per month, according to MLS data.
Number of condos for sale decline
The absorption of standing condo inventory is reflected in the lower number of units actively for sale in Franklin.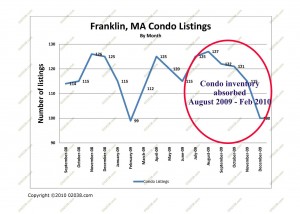 From a high of 127 units for sale last August, inventory of available units has declined to 100 this month.
Single family home inventory improves across MA
Franklin, MA continues to enjoy especially low levels of single family homes for sale.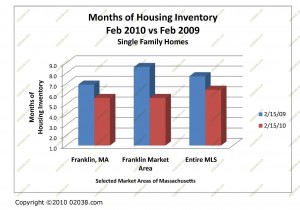 This is despite a surge in lower-priced homes for sale in town.  A number of homes priced from $200,000 to $260,000 came on the market this year in Franklin.  Many of them quickly found buyers.
Single family home inventory levels continued to improve in the regional market surrounding Franklin and in the overall Massachusetts market as well.
The next few months will be very interesting as coming sales data will reflect both the prime spring home selling season and the expiration of the Federal home buyer tax credits.
Copyright ©2010 02038.com