Franklin, MA homes for sale inventory rises; remains below prior years
Every spring, the inventory of homes for sale across Massachusetts rises as home sellers put their properties on the market to catch the prime spring home selling season.
Each spring, Franklin, MA also sees a rise in the supply of homes for sale.
But for the last 2 spring home selling seasons, the supply of single family homes for sale in Franklin has been markedly lower than inventories in both the regional market around Franklin and in the Massachusetts real estate market as a whole.
Greater supply of homes for sale in Franklin than other MA markets
MLS data for March 2010 is adding a major twist to the established spring pattern: the supply of single  family homes for sale has risen at a faster rate in Franklin than in the broader markets tracked by this blog.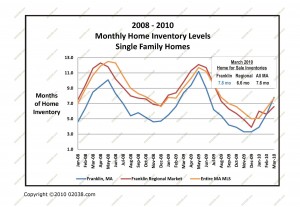 At 7.8 months of inventory of single family homes for sale, Franklin currently has a greater supply of available homes than in the Franklin regional market (6.6 months of supply) and in all of Massachusetts (7.6 months).
This is a reversal in what has been the established pattern over the last two years: in the recent past, Franklin, Massachusetts has consistently carried a lower homes for sale inventory than the regional market around Franklin and the entire state.
Too short a time period to be meaningful
You might not want to read too much into these figures – yet.  One month's data does not define a significant change in the local real estate market.
However if this develops into a marked trend maintained over several months, it would become a much more meaningful statistic.
Franklin homes for sale inventory still lower than prior years
The supply of single family homes for sale in Franklin, MA is up so far in 2010 , but is still lower than during the same time periods in 2009 and 2008.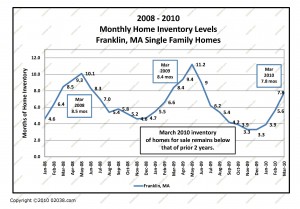 We'll keep a careful eye on developments in this situation over the next few months.
We' ll make sure to give you updates on what any future trends in this data may mean for the Franklin, Massachusetts real estate market!
Copyright ©2010 02038.com