Franklin MA's real estate activity in February gave conflicting signals about where the Spring 2010 market may be headed.
Single family home sales in Franklin during February were lackluster.  Yet the "feel" of the Franklin market during the month was upbeat and active.  Open houses were heavily attended and buyers were actively scheduling showings, looking for good offerings.
Home buyers being selective
This may be the key to understanding February's sale results: buyers are certainly out looking at homes seeking to take advantage of the two Federal home buyer tax credits.  But they don't want to over-pay for a home and are being highly selective.
What homes sellers should do
This should prompt Franklin home sellers to adopt a pragmatic attitude about the upcoming Spring 2010 real estate market.  
Prospective home sellers should plan to price their homes realistically so offers will be forthcoming.   And sellers should treat buyers' offers seriously and make reasonable concessions to get their homes under agreement.
Weak February numbers mask an active market
Despite the ongoing stimulus of the homebuyer tax credits, home sales in Franklin last month were anemic.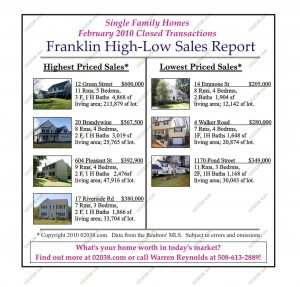 Franklin, Massachusetts had just seven single family home sales in February, according to data from MLSPIN. (MLSPIN is the super-regional multiple listing system in Massachusetts.)
Matches February 2009's low sale volume
These seven Franklin, MA home sales match February 2009's poor home sale results. 
Home sales back then were negatively impacted by the economic uncertainty so prevalent at the then-height of the recent financial crises.
Pending sales restrained
In another indicator of possible market fatigue, the number of pending sales (contracts signed but sales not yet consummated) for February 2010 was also extremely low in Franklin, Massachusetts.  There were only 14 pending sales of single family homes last month.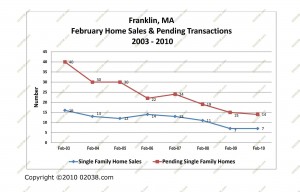 This was the lowest number of pending home sales in Franklin for the month of February going back to 2003.
Temporary lull?
This softness in February's numbers may be a misleading indicator of the direction of the upcoming Spring 2010 market.  Again, buyer activity in the form of showings and attendance at open houses was strong throughout February. 
Or the low sales and pendings numbers may be heralding the start of a weakening of housing demand.  
We'll know more after home sales results are in for March and April 2010.
Home prices to fall, then rise?
It's interesting to note that a home price forecast issued yesterday by CBS MoneyWatch calls for a decline in Eastern Massachusetts home values in 2010 of between 5 percent to 6 percent, followed by a  rise in MA home prices of a similar amount in 2011.
This may reflect uncertainty among housing experts about the strength of the MA housing market once the homebuyer tax credits phase out at the end of April.
March and April home sale numbers may be telling
So we'll all have to wait and see how the 2010 real estate market in Massachusetts plays out. 
You can be sure to find plenty of updates on this right here on 02038.com!
In the meantime, home sellers should price their properties to market and treat all buyer interest with due consideration.
Copyright ©2010 02038.com