What to do with a wet basement in Massachusetts (MA)
Extraordinarily heavy rains throughout March 2010 left great numbers of homes in eastern Massachusetts with wet basements.  March saw unprecedented rainfall totaling over 13 inches in Massachusetts from three massive storms; this was the wettest March on record in Boston.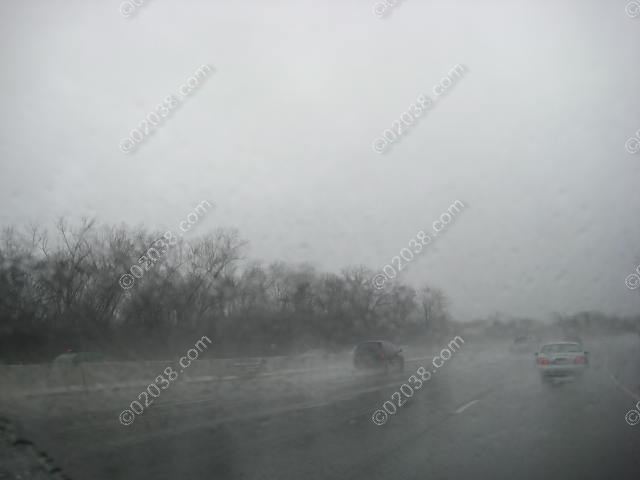 Pumping out basements
Many basements in Massachusetts got so much water in March that they had to be pumped out.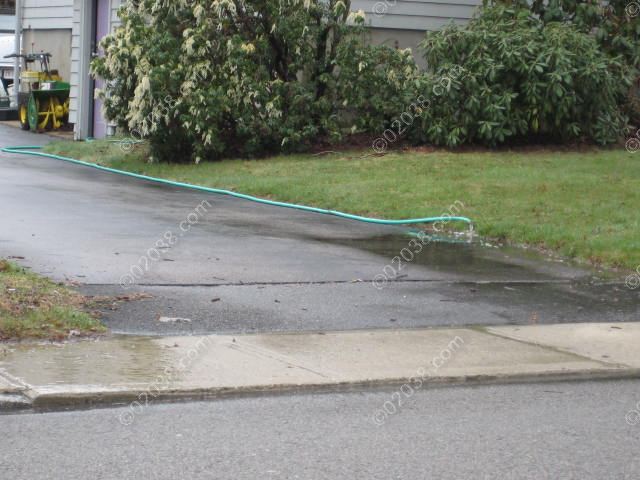 The above picture of a hose snaking out to the street from behind a house in Franklin, MA was a very common scene today throughout eastern Massachusetts!
Many basements with water
I have had many clients call me during March to ask for advice about water in their basements.  Some were faced with water in their basement for the first time in years.  Others got water in what had previously been completely dry basements.
If your basement is finished and got water, then you know what a heartache it is.  Wet carpet needs to be dried (and may need to be replaced).  Wallboard may be so soaked to be deemed ruined.  Furniture and personal possessions may have been destroyed.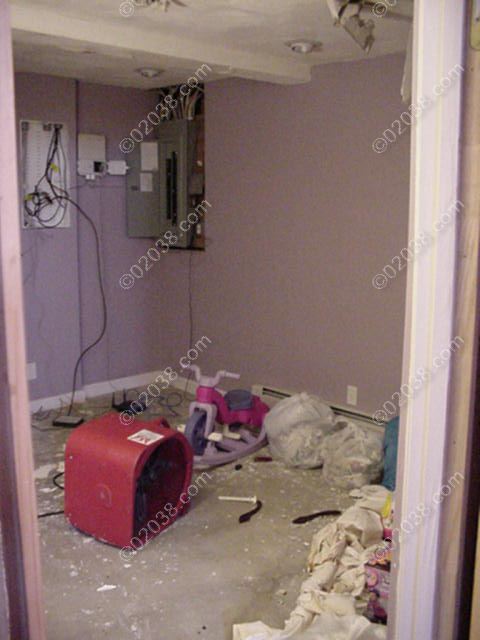 We won't address how to repair water damage to finished basements in this post.  What we will cover is how to resolve common basement water penetration issues.
How to deal with basement water penetration depends on the type of problem your basement has. 
Common basement water penetration problems
Below are some water penetration issues commonly found in Massachusetts.  (I have seen a lot of wet basements in my years as a real estate agent in Massachusetts.)
I also provide below some possible solutions for each type, but please understand that I am not a basement waterproofing professional.  Please consult a reliable expert before undertaking any water penetration mitigation work.
Water around bulkhead doors
Water coming in around bulkhead doors seems to be one of the most common water penetration problem affecting basements in Massachusetts.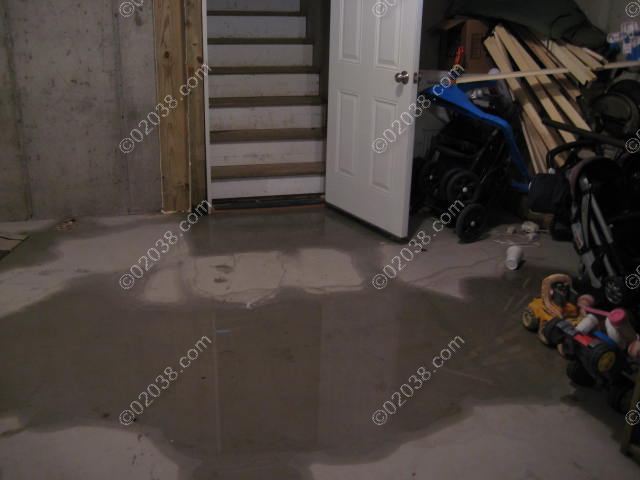 This can be relatively easy to rectify. 
Basement stairs often are pre-cast concrete attached to the exterior of the foundation.  Voids in the soil can form around the stairs letting in rain water.
Solutions can include caulking seams and filling voids with crushed stone.
 Holes can be drilled into the basement floor in front of the bulkhead doors to allow the water to drain away.  Larger drains opening to beds of crushed stone can also be cut in the same area.
Surface water runoff that is not being properly dispersed
This often produces relatively limited areas of basement wetness; often you'll have one "trouble" area or corner of the basement that gets damp during heavy rains.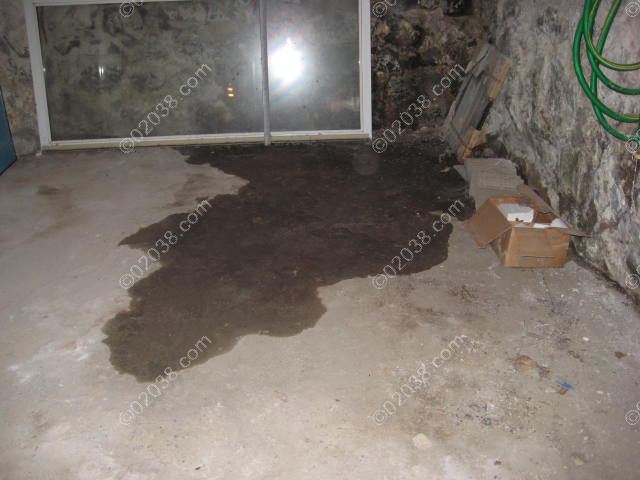 Solutions can be surprising simple: sometimes simply extending your gutter downspouts or re-grading the ground around the foundation will solve this penetration problem.
Heavier penetrations may require the installation of a sump pump in the troublesome area of the basement.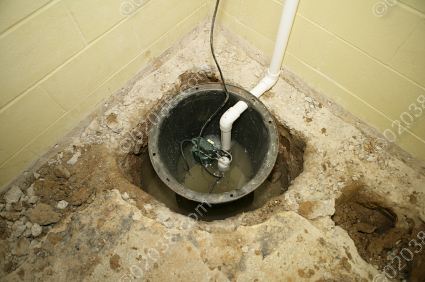 Crack in the foundation
Cracks are quite common in poured concrete foundations.  Most are non-structural and harmless.
Trouble comes when water begins to enter the basement from a crack.  This can occur repeatedly as a "weeping", or suddenly when quite a volume of water invades your basement from a crack during a time of very heavy rains.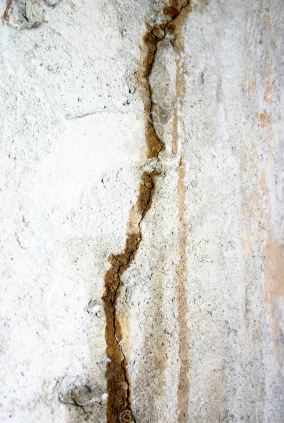 If your basement is finished, it can be very difficult to tell whether your problem is simply a crack or is a more serious water penetration issue stemming from ground water (see below).  You may have to cut some drywall away in the area of the water penetration to look for a crack.
Once you find the crack, it is a very easy fix: a crack-sealer company can do a permanent seal and give you a warranty – problem solved!
Ground water penetration into basement
This can be a much more serious problem.
When a basement floor is below the high point of the ground water table, the basement will likely flood during heavy rain events. In effect your basement is a leaky boat in the ocean; the ground water will keep coming in until it finds its level.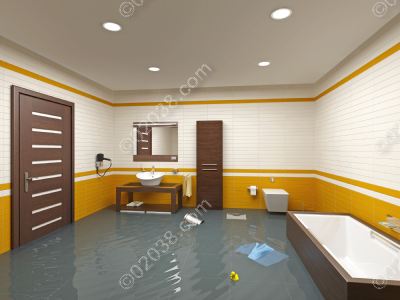 If a large area of a basement repeatedly gets water, or if all of the basement floods to a uniform depth (one or two inches of water can be commonly seen with some really wet basements), the problem may be a high ground water table.
A sump pump may not be able to handle the volume of water entering a basement if the source is a rising ground water table.  The water will sit in your basement until the ground water table goes back down.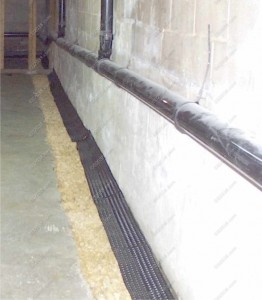 A perimeter drain system (also called a French drain) might be the only real solution for a basement that is within the ground water level.
If your basement got water during March 2010
First determine if the problem was due to a foundation crack, surface water runoff that could not be dispersed, or was due to rising ground water.
If your basement has been dry during your ownership and just got water during the heavy rains of March 2010, it may be that the water table under your house rose to an unusually high level due to the record rains we had over the last month. 
You may not have to engage in any preventative work, if you think there is a low probability of a repeat occurrence of such massive rains in coming years.
Explore options before you sign a contract
If you think you need professional help to solve your basement water problem, please be careful with contractors.  Most are honest, helpful experts.  Some unfortunately seek to make a quick buck and prey on your anxiety. 
During the recent widespread basement flooding events in MA, some of my clients got abusively high quotes for water penetration "solutions" that were not needed or were extreme overkill.
So get multiple quotes and sign no contracts in a rush.
I can refer you to reputable contractors – just ask!
Copyright ©2010 02038.com