Franklin, MA single family home sales shot up a stellar 45% in April 2010 over year ago levels.  According to MLSPIN, the regional MLS system in Massachusetts, the sale surge in Franklin easily outdistanced the 35% increase in home sales experienced across Massachusetts last month.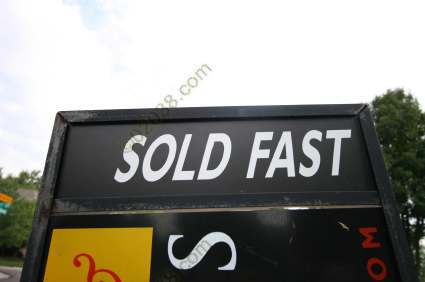 Franklin, MA real estate has best April since 2003
The 29 single family homes sold in Franklin last month was the highest sale total achieved in Franklin for any April since 2003 when 30 Franklin, Massachusetts single family homes changed hands.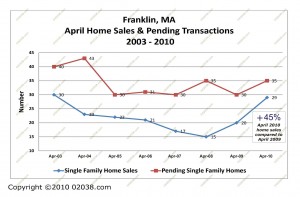 Pending home sales in Franklin, MA also rose in April, but not at such a sharp rate as for completed sales.
April home sales up despite March's bad weather
April's MLS home sale data confirms the rebound in Massachusetts real estate sales reported recently by MA real estate tracking firm The Warren Group.
April's performance was all the more impressive coming on the heels of March's heavy rain and flooding events in Massachusetts. 
Home showing and selling activities in March were negatively impacted by all the rain.  (Since home sales in MA take approximately 4 – 8 weeks to "close", the majority of home sales that went of record last month likely resulted from sale agreements struck between mid-February through the end of last March.)
Top and bottom home sales in Franklin, MA
Below are the four highest and four lowest MLS home sales in Franklin that went of record last month.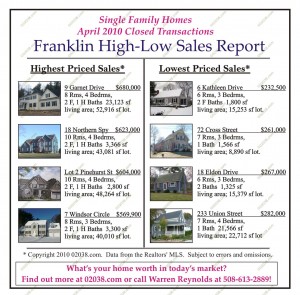 You'll note that the highest priced home sales in Franklin, Massachusetts last month were all below $700,000.  This makes Franklin an oasis of relative affordability among communities with such excellent public school systems in suburban MA.  
Eligibility deadline for home buyer tax credits has passed
Home buyers needed to get a binding home sale agreement signed by April 30, 2010 to be able to qualify for either of the Federal home buyer tax credits.
As the local economy continues to improve, we'll have to wait for home sale results over the coming few months to see what effect the end of the federal home buyer tax credits will have on the Franklin, MA real estate market.
There still appear to be some attractive offerings in Franklin and surrounding towns; click the hot link to view homes for sale in the greater Franklin region.
Happy house-hunting!
Copyright ©2010 02038.com