Franklin, MA real estate continued to strengthen in May 2010 in terms of what's called its "absorption rate".  At 7.5 months of standing inventory, the supply of Franklin homes for sale this month is 33% lower than the 11.5 months of housing inventory in Franklin one year ago.  
Broader markets in Massachusetts also showed a similar improvement in absorption of housing supply for May.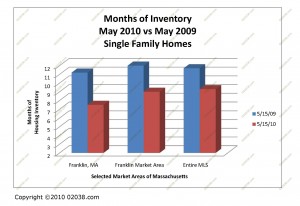 What May's figures mean
As of mid-May 2010, there's a lower standing inventory of homes for sale in Franklin, MA and in the regional market surrounding Franklin compared to last year; the real estate market's "absorption rate" in 2010 is accelerating.  Housing inventory across Massachusetts is also being absorbed at a faster pace.
Ask 'What's the absorption rate?'
Absorption rate analysis is a commonly used way to gauge the health and direction of a real estate market.
A variety of absorption rate formulae exist. Most seek to ascertain the current rate of home sales in a community or broader regional market to calculate how long it would take all properties currently for sale in that market to be sold (or "absorbed").
The calculations produce a "months' worth of housing inventory" figure and this often is compared to supply levels carried during earlier time periods.  The  comparison gives you a good reading of whether the local market likely is headed up or down.
Inverse relationship
There's an inverse relationship between home for sale inventory and the direction of the real estate market.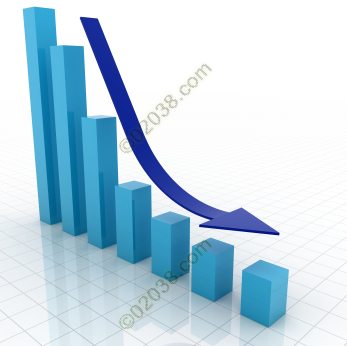 When there is a declining trend in the months of housing supply, that's good news! 
Less inventory means the real estate market is stronger and home prices might rise in the future.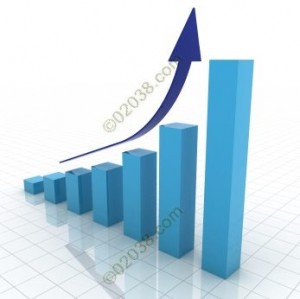 However, when the supply of homes for sale is increasing, that's generally a bad thing. 
With more months' worth of homes sitting on the market, conditions may be softening and there may be a bias towards declining home values.
Future indicator?
May's housing inventory figures for Massachusetts may be significant for both prospective home buyers and sellers.
They might be foreshadowing where MA home prices may be heading!
(Data used in this post is from MLSPIN and is deemed reliable but not guaranteed.)
Copyright ©2010 02038.com