If you haven't visited Franklin's Public Library recently, you're in for an eye opening experience: there's a simply beautiful new reading room on the library's lower level!
What was a mostly unused, locked afterthought has now become a striking enhancement to one of the most impressive municipal properties owned by the Town of Franklin, Massachusetts.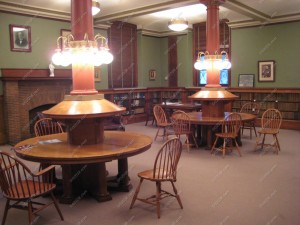 On of the jewels of Franklin, MA
The historic Public Library in the Town of Franklin, MA can rightly be called one of the "Jewels of Franklin."  The exterior is styled after a classic Greek temple.  The interior is lavishly decorated with mahogany, marble, and bronze and features amazing murals and landscapes by internationally known artists. 
The Franklin, MA Public Library holds an important place in the intellectual history of America: it is recognised as the first public library in the entire United States!
Striking renovation
Here's a YouTube video of the new reading room:
The new reading room is very much in keeping with the high quality of the main rooms on the second floor. 
I was simply stunned by the beautiful coffered ceiling.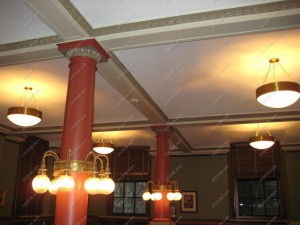 The room used to be the children's room.  It seems to have mostly been closed to the public and only infrequently used over the last ten years or so.
The beautiful restoration of this room will hopefully spur further improvements to the lower level.
All the residents of Franklin are very lucky to have such a beautiful library building; please help the Friends of the Franklin Library support this important asset to the Franklin, MA community.
Copyright ©2010 02038.com