Monitoring the rate at which MA's home for sale inventory is "absorbed" (sold) is a good way to keep tabs on the health and direction of the Massachusetts real estate market.  (For an explanation of absorption rate analysis, click the link).
Improvement over June 2009
June's absorption rate figures for MA indicate better conditions now in Massachusetts real estate than at this time last year.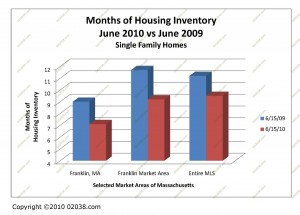 Three markets tracked
This blog tracks three markets in MA: the broadest measure of the Massachusetts housing market as represented by all listings carried on MLSPIN; the local market in the Town of Franklin; and the regional housing market comprised of communities in the Franklin vicinity.
The overall Massachusetts real estate market is carrying 9.5 months of inventory in June 2010 (as compared to 11.2 months last June).
The regional market around Franklin is showing similar improvement: 9.2 months worth of homes in June 2010 versus 11.7 months in June 2009.
The Town of Franklin, MA is maintaining less housing inventory than the other two markets tracked by this blog.
Franklin currently has 7.1 months worth of homes for sale, a notable reduction from the 9 month supply in Franklin last year at this time.
Numbers reflect Federal home buyer tax credits
Note that absorption rate calculations used by this blog look at home sales over the prior six months.  So current absorption figures reflect home sales during the market stimulation supplied by the recently-expired Federal home buyer tax credits.
It may take several additional months of sales data before we'll start to get a reading on how MA is absorbing housing supply without the beneficial support of those Federal tax credits.
Click to access more reports about the health and direction of the MA real estate market.
Copyright ©2010 02038.com