Mortgage interest rates dropped to near 50 year lows this past week as institutional investors shifted assets from stocks to US Treasuries in the face of worries about continued European financial instability.
If you are looking to buy a home or refinance your existing home loan, this is an excellent time to take advantage of some very favorable rates.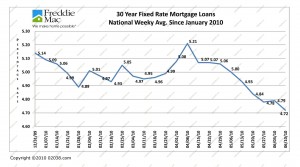 Super-low rates
Last week, the average rate for 30-year fixed mortgages as tracked by Freddie Mac was an astoundingly low 4.79 percent. 
This is just a hair higher than the modern era's all-time low of 4.71 percent reported by Freddie Mac early last December. 
Rate decline confounds experts
At the start of 2010, many financial experts were making widely-reported forecasts calling for significant increases in mortgage rate throughout the coming year.
However mortgage rates proceeded to stump the experts by abruptly peaking in early April 2010.
They then fell steadily over the last eight weeks, heading back down to near record lows.
"Whether they move lower or stay where they are, these are great rates," said Frank Nothaft, chief economist for Freddie Mac in a press release accompanying last week's rate figures. "These are probably the lowest rates in 50 years or pretty close to it."
So if you're thinking of buying or selling a home, there's great news for you in today's very low rates!
Copyright ©2010 02038.com