Greater Boston single family home prices rose 1.5% in May, according to the Standard & Poor's/Case Shiller home price index for the Boston metro area. The increase marked the second month in a row that Boston area home prices rose.
Losses of last fall and winter erased
At 155.95, the S&P/Case Shiller Boston index now has recouped all the losses it experienced during  Massachusetts' seasonal home price lull last fall and winter.  The Boston index for May stands exactly at its 18 month high set in August 2009.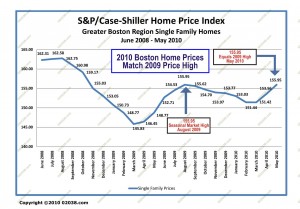 Seasonal MA home price swings
Boston home prices have risen nearly 3% since March, continuing a pronounced pattern of seasonal swings in metro Boston home prices.
Throughout the last decade, every fall/winter has seen Boston area home prices recede, while during every spring/summer, home prices in Greater Boston have rebounded.
Boston home prices bottomed in 2009?
Beginning in 2005 through 2008, the overall trend in Boston home prices had been downward.
But in a notable break in the downward bias, the 2009-2010 fall/winter home price slump was very mild.
In fact, the bottom of the last seasonal market slump in Greater Boston was higher than the prior year's low.
Uncertain outlook for home prices
Like metro Boston, many of the US metro markets tracked by S&P showed home price gains in May.
But many housing analysts pin May's strength on a spring home buying surge amplified by a rush by buyers to qualify for the now-expired Federal home buyer tax credits.
The expert consensus seems to be that home prices across the US face an uncertain future now that the tax credits and spring home buying season are history.
Many housing prognosticators are sounding warnings of a potential second dip in home prices:
Home Prices May Soon Slide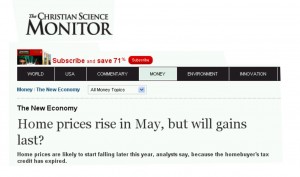 Experts have been wrong before
There's a great deal of uncertainty predicting the behavior of any financial or asset market.
Some forecasts are way off target.
For example, mortgage interest rates were pretty universally forecast last winter to soar in 2010.
And those predictions were shown to be totally wrong when mortgage rates proceeded to fall to record lows in 2010 instead.
So no one knows for sure what the future will bring for home prices in Massachusetts and the US.  But you can count on us to keep reporting on this for you in coming months!
Copyright ©2010 02038.com