In data released today, Standard and Poors reported that Greater Boston single family home prices rose 1.2% in June.  This was the third month in row that the S&P Case-Shiller Index for metro Boston showed an increase in Boston home values.
4.2% rise from March's lows
The 157.83 June reading represents a 4.2% rise in Boston home prices from the recent Index low set last March.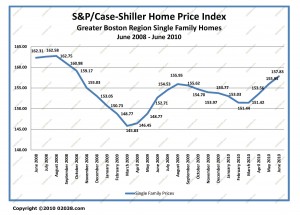 The Boston index now stands 1.2% higher than its prior spring/summer seasonal high set in back in August 2009.
June data outdated?
June home sale prices are the most recent reported on by Standard and Poors.
And because many home purchases take about 2 months to close, June price data mainly reflect purchase agreements entered into during April 2010, the last month that the two Federal home buyer tax credits were in existence.
Market slowed after tax credits expired
As widely reported in the news media, the US housing market took a pronounced turn for the worse after the expiration of those two tax credits.
July was an especially bad month for US real estate, including Massachusetts.
Some call for return of home buyer tax credit
July's performance was so bad that it is causing some policy advisers and politicians to call for a new Federal home buyer tax credit to help support the US housing market.
The need for such a return to active stimulation will be debated over coming weeks.
Proponents and opponents alike will be looking hard at August's housing data; early reads on August will be rolling out late this week.
Check back at 02038.com to see how MA fared in August – I'll be posting soon!
Copyright ©2010 02038.com