In the face of exceptionally weak MA home sales in July and August, Massachusetts home sellers and buyers alike may be wondering what the fall 2010 real estate market will bring.  While some of the recent market stats seem a bit daunting, there are plenty of reasons for optimism about home sales in Massachusetts as we enter the fall 2010 home selling season.
Video on fall 2010 MA real estate outlook
Here's a short video that explains why the summer 2010 real estate market was so weak in MA.  It also reviews the positives supporting the market for the rest of 2010 and beyond:
August and July MA home sales exceptionally weak
Massachusetts real estate turned in a poor performance in August 2010.  Homes sales were off nearly 23% from year-ago levels.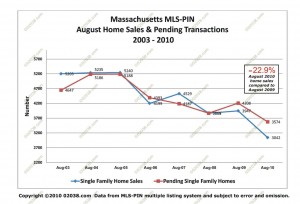 Pending sales were also well below where they were in August 2009.
Dismal July
August's weakness came on the heels of dismal MA home sales in July.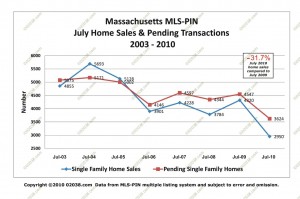 The number of homes sold in July 2010 plunged 31.7% and pendings swooned 20.2% compared to July 2009.
Federal home buyer tax credits to blame
Lay the blame for the summer 2010 weakness on the two Federal home buyer tax credits that expired last April.  The tax credit programs accelerated demand as buyers scrambled to buy homes before tax credits terminated April 30.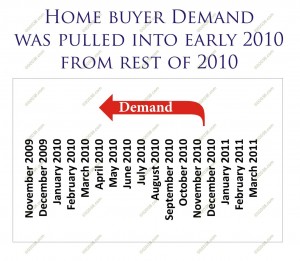 Home sales that would have occurred later in 2010 were pulled forward into the spring.  It was only natural that home sales would slump when the tax credits were no more.
Summer slump more severe than expected?
However, it is not clear that anyone forecast such a steep fall off in market activity.
July was so bad across the US that housing policy experts immediately began calls for a resumption of  a Federal home buyer tax credit program.
Reasons for optimism
There certainly is quite a lot of current uncertainty about the direction of the US economy and prospects for the national housing market.
However, there are factors that should reduce the chances for a prolonged downturn in the MA real estate market for the rest of 2010 and beyond:
1. Massachusetts economy is improving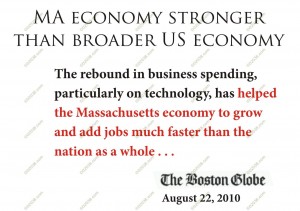 2. MA home prices appear to have stabilized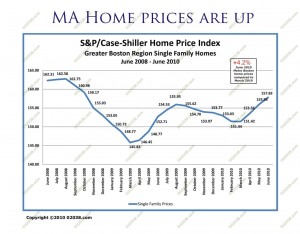 3. Mortgage interest rates are at historic lows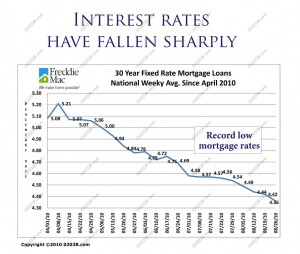 What this means for home sellers and buyers
If you are thinking about buying or selling Massachusetts real estate during the rest of 2010, you might want to adopt a pragmatic strategy.
Home seller
Home sellers should price their properties very realistically. Your home is no longer worth what is was back in 2005.
Take care to treat all buyer interest with great respect and consideration.
You might find it difficult to replace a buyer lost to heavy-handed negotiation stances or an unwise insistence on an inflexible target selling price.
Home buyer
Interest rates are very low, making now a very advantageous time to buy and lock in low debt servicing costs for the long term.  You will save $10,000s over the life of your mortgage at today's historically low rates.
Resist the temptation to spurn a good deal in the hand in favor of what may prove to be a very illusive "great deal" in the bush.
Seek a home seller who is properly motivated to find a good buyer before the snows of winter close in.
Skilled help for home buyers or sellers
If you have any questions or would like solid advice on buying or selling a home in Massachusetts this fall, please contact me or call me at 508-613-2889!
Copyright ©2010 02038.com