Just in case you missed it last week,  there were two upbeat economic news reports in the media worth noting.  Taken together, these reports demonstrate why the outlook for real estate in Massachusetts may be better than some may currently think.
MA economy adds jobs
The jobs picture in Massachusetts is far from rosy.
But things are improving enough for the state to be able to announce last week that the MA unemployment rate has fallen below 9% for the first time in a year.
September's 8.8% unemployment rate prompted the Boston Globe to conclude that the MA economy is continuing to recover at a faster pace than the rest of the US: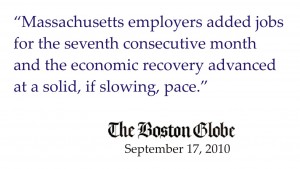 US avoids double dip recession
Earlier this year, there had been fears expressed in the media by some economists that the US might be slipping back into recession.
However, Bloomberg BusinessWeek announced this past week that it has become clear that the US economy is continuing to grow, albeit at a slow and fitful pace.  It seems likely now that we will avoid a second national recession for the foreseeable future: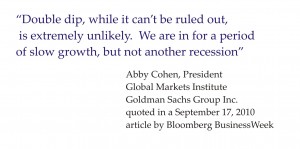 Improving economic foundation for MA real estate market
Both pieces of economic news last week contained positives and negatives for the national and local economies.  We clearly have a long way to go before we have a healthy, vibrant economy, both on the local and national levels.
But there was enough good in each report to help assure us in Massachusetts that the MA real estate market will be helped, and not hurt, by current economic conditions in the Bay State and in the US as a whole..
Local job growth helps bolster real estate sales and home prices.
And the fact that the Massachusetts economy will not be dragged down by a second recession on the national level should give us all encouragement that economic conditions will continue to improve in MA.
Copyright ©2010 02038.com