In keeping with the approach of Halloween and the fall's increasingly dark and dreary weather, we may soon see a lot of gloomy (and possibly even downright frightening) headlines about the real estate market this fall.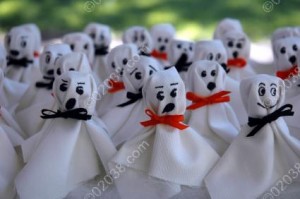 Real estate news headlines to get scary?
We already have been treated to some scary monthly home sale headlines this summer.
Real estate news this fall seems likely to be downbeat.  In fact, the spate of bad real estate news may extend into 2011 as well.
Good time to buy a home in MA?
However, this negativity is coming against the backdrop of generally positive economic news on both the local and national level.
The Massachusetts economy is adding jobs.  Even nationally, there's no more talk of another recession.
And mortgage rates are historically low.
So while the economy is still not fully healed and there are plenty of people still hurting, there is a very good case to be made for home buyers and investors to simply ignore the negative real estate news headlines you may be seeing this fall.  This fall may present a unique home buying opportunity in Massachusetts that you would be very wise not to miss.
In fact, this fall may be the ideal time to buy a home or investment property precisely because of what looks to be an upcoming run of scary real estate news reports!
Why real estate news may get so bad?
Each month, local and national home sale statistics are released by quite a number of businesses and real estate trade organizations (including the National Association of Realtors®).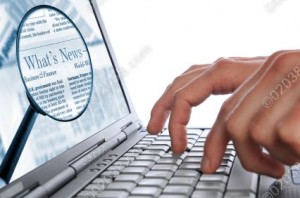 The reports often compare home sales for the month just ended to data for the same month during the prior year.
Current home sales look bad compared to last year
Last year at this time the real estate market was very active because of  the then-looming expiration of  the Federal first time home buyer tax credit.
The credit was set to expire on November 30, 2009, so first time home buyers were snapping up homes last fall in a rush to beat the deadline.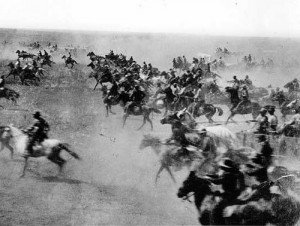 So monthly real estate reports for the rest of this year will be comparing late 2010 home sales to the vibrant home sales completed back in late 2009.
These reports will make the late 2010 market activity look really bad on a comparative basis.
Problem will not end with 2010
2009's home buying rush didn't end in 2009 – it actually continued well into 2010.
Instead of being allowed to expire at the end of November 2009, the first time home buyer tax credit was extended by the Federal government to April 30, 2010.
A second tax credit was also created for existing homeowners that used the same April 2010 deadline
The two home buyer tax credits induced even more buyers to buy homes in early 2010; there was an even bigger rush to buy before April 30, 2010.
So from now through April 2011, we are likely to have monthly real estate reports that make current monthly home sale volume look bad in comparison to the home sale crush of 2009 – 2010 created by the home buyer tax credits.
Last year's home sales stolen from today's market
The problem we face in today's Massachusetts real estate market is compounded by the fact that current conditions have been made weaker on an absolute basis by the unintended consequences of the Federal government's intervention in the market via the home buyer tax credits of 2009 – 2010.
The home buyer tax credits were intended to help stimulate home sales.  But in hindsight, the credits simply accelerated many home buying decisions.
Home purchasers bought earlier than they otherwise would have in order to qualify for the tax credits.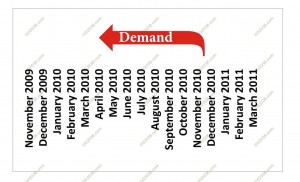 Instead of buying a home in mid to late 2010, they bought in 2009 or early in 2010.
This was great in late 2009 and early 2010, but now that forward shift in demand has made today's market a lot weaker.  The tax credits in effect stole buyers and home sales from our market today.
This lull will not last forever as new buyers will enter the market over the coming months, replenishing the natural reservoir of home buying demand.  But the current lull is a factor in today's market that needs to be recognized.  It's something that smart buyers can take advantage of this fall!
Double whammy
So we now face a double whammy: not only will home sales over the next several months look bad compared to monthly sale totals from 12 months ago, but this fall's market is also facing a temporary sales lull artificially created by the tax credits' ballooning homes sales in late 2009 and early 2010 by draining demand from the second half of 2010.
Bad news and artificial demand lull make now a good time to buy?
Here's the case for ignoring the bad real estate news headlines of later 2010 and buying a home or investment property now.
If you did not buy a home during the home buyer tax credit frenzy of 2009 – 2010 you are in luck.
You can take advantage of the artificial lull in activity that is affecting the fall 2010 market.
The upcoming round of bad real estate news headlines may deter some buyers who won't understand where the bad news is coming from.
This fall seems an ideal time to buy real estate.
The MA economy is recovering, albeit slowly.  Home prices are down.  There's less competition from other buyers.  Motivated home sellers may have to cut deals to get their homes sold.
And mortgage rates are really, really low.
Acting now to buy that home or investment property is a smart move!
You may find yourself in 5 or 10 years saying "I can't believe I paid so little for the house back in 2010!"
Copyright ©2010 02038.com