Greater Boston home sale prices drifted just a bit lower in August 2010, posting a mild 0.3% drop. The essentially steady performance of metro Boston home prices was announced earlier this week by Standard and Poors in its monthly release of the S&P/Case-Shiller Home Price Index for the Boston metro area.
Pronounced seasonal pattern of rise and fall
Greater Boston, MA home sale prices historically have been affected by the time of year, regardless of whether the overall price trend has been up or down.
Greater Boston home prices usually move higher starting in the spring and take a dip in the fall/winter. The end of summer often is when metro Boston home prices begin their seasonal statistical decline. So August's home sale price dip may just be the beginning of this year's seasonal slump.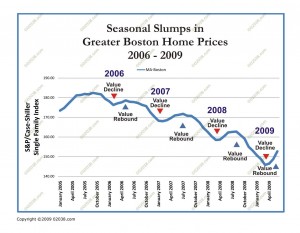 To get an idea of why this could be, just look at the above chart showing the pronounced wave-like pattern of seasonal crests and troughs in Greater Boston home prices between 2006 and 2009, a time when the long term direction of home prices was decidedly negative in Massachusetts.
Seasonal distortions make it hard to spot meaningful market change
The seasonal ups and downs in Greater Boston home sale prices can make it hard to spot meaningful shifts in the Massachusetts real estate market.
So in an attempt to remove the rhythmic distortions of these seasonal price swings, the statisticians at S&P have produced a seasonally adjusted version the Case-Shiller Home Price Index for Boston.
Clearer picture of the market
Here's how the last two years look in the seasonally adjusted Boston Index compared to the unadjusted Boston Index: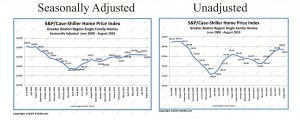 The seasonal price undulations are gone in the adjusted Index on the left. It gives you a clearer, more accurate snapshot of the recent performance of area home prices.
Here's another view of the seasonally adjusted Boston Index since June 2008: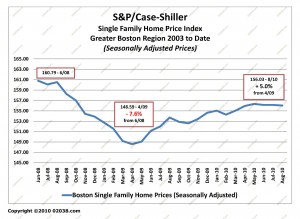 Current home prices up 5% over April 2009 bottom
You can see in the seasonally adjusted Index that metro Boston home sale prices bottomed in the spring of 2009.
Current seasonally adjusted metro Boston home prices are 5% higher than they were at the market bottom back in April 2009.
It's interesting to note that all of that 5% home price rebound occurred from May 2009 to May 2010.
Seasonally adjusted home prices in Greater Boston have been basically flat since May 2010, which not-coincidentally almost exactly coincides with the April 30, 2010 expiration of the two Federal home buyer tax credits.
We'll keep referring to the seasonally adjusted Case-Shiller Home Price Index for Boston in future posts on home values in Massachusetts!
Copyright ©2010 02038.com