Home sales in Massachusetts fell 18.9% in September compared to sales in September 2009, according to data maintained by the MA MLS (MLSPIN). The decline in MA home sale volume came despite recent rises in Greater Boston home prices, record low mortgage rates, and improvements in important sectors of the MA economy.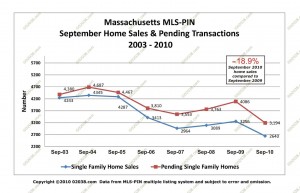 Third monthly decline in a row
September was the third month in a row that home sales fell in MA; home sales were down 31.7%, 22.9% and 18.9% in July, August and September, respectively.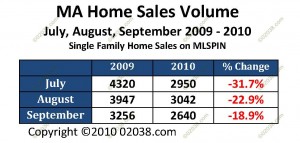 What may appear to the casual observer as a near collapse in Massachusetts home sales needs to be put into context.
Why bad home sale statistics may not signal trouble ahead
The recent run of troubling home sale stats may not be a cause for alarm.
Indeed, home buyers might want to view this fall's slowdown in home sales as a solid buying opportunity.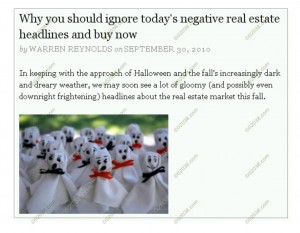 Please take a look at a recent post that reviews the slump in MA home sales and explains why you should discount fears of another long downturn to the Massachusetts housing market.
Artificial lull in demand
The key to understanding what is happening with home sales this fall is the expiration of the Federal home buyer tax credits back in April 2010.
The Federal government bolstered the US housing market with the Federal home buyer tax credits of 2009 – 2010. The credits were successful but they had an unintended consequence: they accelerated many home buying decisions.
The tax credits greatly increased homes sales in late 2009 and early 2010 partly by draining demand away from the second half of 2010.
That forward shift in demand has made today's market weaker.  That is why homes sales in Massachusetts have been depressed in the second half of this year.
For buyers
The artificial lull in the market makes this fall a great time to buy a home in MA!
There's less competition from other buyers.  And mortgage interest rates are at historic lows.  Motivated homes sellers may have to cut deals to get their homes sold before the snows of winter set in.
For sellers
Because the local economy is getting better and mortgage rates are so low, the outlook for the local real estate market is not nearly as bad as the recent home sale statistics may lead you to believe.
Again, the downtrend in home sales reflects the artificial lull in demand created by the home buyer tax credits.  The number of monthly home sales will likely recover over time as new buyers enter the market.
The key for home sellers this fall is to set your asking prices to be compelling.  Properly priced homes are selling, some quite quickly.
If your home has been sitting on the market with few showings and no offers, it is not necessarily the fault of your listing agent!
The flaw may lie instead with your asking price.
And depending on your particular circumstances, it might not take that much of an adjustment to get your home showing volume up and generate some interest and offers!
Copyright ©2010 02038.com