A slowdown in MA home sales coupled with an increase in the number of homes for sale caused home inventories to rise in Massachusetts in October. The bulge in the inventory of homes on the market in MA reflects a drop off in the number of ready, willing and able home buyers.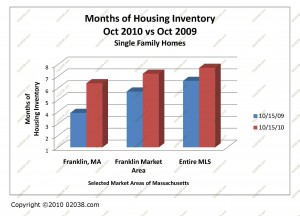 A general weakening of demand has been noticeable across the Commonwealth ever since the expiration of the two Federal home buyer tax credits at the end of last April.
Market slowed after end of tax credits
The chart shown above amply demonstrates the current state of the Massachusetts real estate market: nothing dire, but certainly a move in the wrong direction.
Massachusetts saw a 16.7% rise in the inventory of homes available for purchase in October (to 7.7 months' worth of supply from 6.6 months in October 2009).
Home for sale inventories rose a sharp 26.3% in the regional market around Franklin, MA and a whopping 64% in the Town of Franklin, Massachusetts itself (although the supply of available homes in Franklin is still below both that of the regional and state-wide markets).
Fewer sales and more listings the culprit
Here's the reason why October's home inventory numbers rose throughout Massachusetts: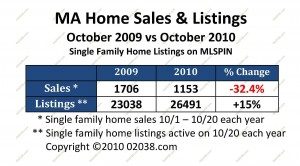 It is simple mathematics.
If home sales volume declines while the number of homes for sale goes up, it is going to take the market longer to "absorb" (buy) the homes currently available for purchase.  The months of standing inventory goes up.
Reasons for optimism
It is important to avoid exaggerating this fall's MA real estate market deceleration: properly priced homes are selling, some very quickly.
I produced the buyer for the home at 15 Josiah Drive in Upton, MA the first day that home was on the market a couple of weekends ago.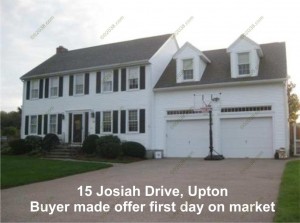 And my listing at 28 Harvard Lane, Wrentham, MA found a buyer this October after the first open house.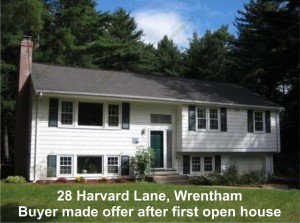 There are very good reasons to discount the alarming market stats we have been seeing on the local level for some months now.
The Federal home buyer tax credits heavily contributed to today's slower real estate market. The tax credits accelerated buyers' purchases into late 2009 and early 2010, in effect stealing demand from the rest of 2010.
So the current slowdown in demand is artificial in nature and should cure itself over time.
And mortgage interest rates are at all-time lows.
This greatly bolsters the buying power of buyers and gives them a strong incentive to buy this fall.
Advice to frustrated home sellers
I know how hard it is to have a home for sale in the current market; some homes are selling while other homes linger unsold and you can't understand why your property hasn't found a buyer.
It is not your home's fault and is very likely not the fault of your hard working listing agent either.
This fall, put the blame on those expired Federal home buyer tax credits!
Adjust your asking price and get the house sold while rates are low

Even slight over-pricing can cost you months of extra time on the market.  Buyers will simply reject an over-priced home and buy a competing property that offers better value.
But home sellers have an ace in the hole this fall: today's historically low mortgage rates.
Given the urgency many buyers feel to find a home this fall to lock in a great mortgage rate, you might be pleasantly surprised by the durability of this fall's market.  Properly priced homes have an excellent chance of selling over the next few months while the low rates last!
My best advice to home sellers with a home currently on the market is to stick it out . . . you might find yourself in a very difficult market if mortgage rates spike next year.
You will thank yourself in coming years if you price your home properly now and grab a good buyer as soon as she comes along!
Copyright ©2010 02038.com