Massachusetts' unemployment rate plummeted in September to its lowest point in more than 12 months. The sharp drop in the jobless rate, which fell to 8.4 percent in September from 8.8 percent in August, was the greatest monthly decline since 1976 according to the state's Executive Office of Labor and Workforce Development.
The Bay State's jobless rate is now well below the overall US unemployment rate, which was at 9.6 percent in September.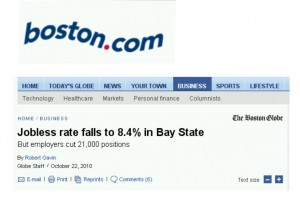 Jobs were lost in September
September's news was not all good as a significant number of jobs were lost in the state's hospitality and tourism-related sector. Calling this "a normal seasonal adjustment" Secretary Joanne Goldstein noted that this sector often experiences attrition at the end of the peak summer tourist season.
Longer term economic trend encouraging
The longer-term view reveals an upbeat economic trend that bodes well for the local real estate market: the Commonwealth has added a total of over 40,000 jobs this year. The Bay State's unemployment rate has declined steadily throughout the year.
"The trend still supports the notion that Massachusetts is recovering faster than the nation,'' said Michael Goodman, an economic analyst at the University of Massachusetts Dartmouth. "But the larger story is, we may be seeing some of the impact of slowing national and international economies.''
Good news for MA real estate in 2011?
It is pretty obvious by now that the MA real estate market took an extended breather in the second half of 2010 after the expiration of the two Federal home buyer tax credits last April. Home sales have been down while inventory levels of homes for sale in MA have been rising.
Those looking for clues to how the MA real estate market will fare in 2011 should note that jobs creation is usually the main driver of a housing market.
Much more than stimulus schemes or low mortgage interest rates, the rate of local job growth typically determines the fundamental direction of any regional real estate market.
If jobs creation continues in MA while interest rates remain low, we may see in 2011 greater than expected home buying demand in the MA real estate market – very good news for MA home owners!
Copyright ©2010 02038.com