It can sometimes be hard to know exactly where home prices in Massachusetts are headed. That's because local sale price statistics can be heavily influenced by the passing of the seasons.
Take a look at the following chart showing the S&P/Case-Shiller Home Price Index for Boston over the last seven years:
You can see that during that over the last seven years there has been a regular, rhythmic pattern of annual upswings and downturns in Greater Boston home prices that mirror the seasons.
Seasonal highs and lows
Simply put, home sale prices in metro Boston tend to rise in the spring/summer and fall back in fall/winter.
The overall price trend may be up or down, but every year there typically are distortions due to seasonal influences.
The seasonal distortions can mask meaningful price movements and obscure significant economic developments.  This seasonal volatility can make it difficult to know what's really happening with home prices on a month-to-month basis.
How to know real direction of home values
One solution to the problem of seasonal distortions in MA home sale price statistics is one you see a lot in economics: seasonal adjustments.
Here's how the S&P/Case-Shiller Home Price Index for Boston over the past seven years looks as seasonally adjusted: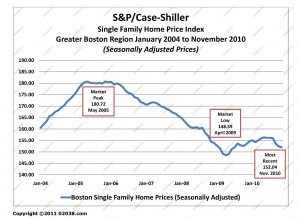 The rhythmic up and downs are stripped away.  We now have a much clearer view of what is happening in the Massachusetts real estate market.
So when you read a story on home prices in Massachusetts that gives a trend line over several months or years, remember the impact of the seasons.  Look to see whether the sale prices being cited have been seasonally adjusted – you'll get a much more accurate take on the market if they have!
Copyright ©2011 02038.com