January may mark the start of a new year, but for the real estate market in Massachusetts the first month of 2011 feels less like a new beginning and more like the "same ole same ole" in terms of the supply of homes for sale in MA.
Home inventory levels on the rise
The inventory of single homes for sale have been on the rise in the Commonwealth since market activity slumped after the expiration of the Federal buyer tax credits back at the end of April 2010. Conditions this January may indicate that the elevated supply of available homes in the state will extend well into 2011.
7 months of supply
There is currently a seven month supply of homes listed for sale on MLSPIN, the largest MLS system in Massachusetts.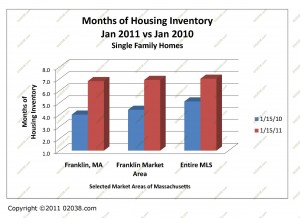 This contrasts unfavorably with the roughly 5 months' worth of single family residences on hand back in January 2010.
Housing inventory locally mirrors state-wide levels
There's just about a 7 month supply (6.8 months if you want to be exact) of single family homes for sale in the Town of Franklin, MA on the MLS currently, compared to Franklin's low 4 month inventory last January. This is the first time in about the last 18 months that Franklin, MA's inventory of homes has not been significantly lower than the state-wide supply.
The regional market surrounding Franklin, Massachusetts is also carrying just a shade under a 7 month supply (6.9 months) now; the figure was 4.4 months last January.
Current supply of homes would take 7 months to find buyers
At the current rate of home sales in Massachusetts, it would take seven months for the market to "absorb" the standing inventory in MA. In other words, all the homes presently for sale in MA would take seven months to all find buyers.
This is not an unduly worrisome amount of inventory.
In the current environment of slow home sales and depressed real estate markets across the US there are many other regional markets carrying much heftier housing inventories.
Copyright ©2011 02038.com