Greater Boston home sale prices are stabilizing and even rising a little according to seasonally adjusted home price data released this week by Standard & Poors. Seasonally adjusted home sale prices in the metro area rose 0.8% in December, the most recent month covered by the S&P/Case-Shiller Home Price Index for Boston.
First rise in Boston home prices since May
The modest rise in Greater Boston home sale prices in December was the first increase since May 2010.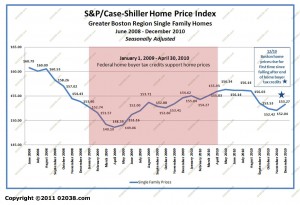 MA real estate hurt by end of tax credits
From last June through November, MA home prices had been under pressure.
The local real estate market essentially suffered withdrawal pains after the expiration of the two Federal home buyer tax credits at the end of April 2010.
Soon after the end of the Federal tax credit programs, home buyer demand dried up. Home prices plateaued and then began to slide. The Massachusetts real estate market went into a noticeable slump during the second half of 2010.
Real estate market recovering now?
The post-tax-credit real estate slump in Massachusetts may now be easing.
The number of homes sold in Massachusetts rose in both December and January.
So December's increase in the S&P/Case-Shiller Home Price Index for Boston may be additional evidence that the MA real estate market is getting its legs back.
Unadjusted home sale prices slip
Note however that the non-seasonally-adjusted Boston Index slipped a bit in December.
But the unadjusted Boston Index is distorted by severe seasonal fluctuations.
So it may be wise to discount the relevance of that unadjusted measure of Greater Boston home price performance.
What will Spring 2011 bring?
It is way too early to draw any conclusions from the recently encouraging home price and sales volume figures in the Commonwealth.
In order to determine the overall health and direction of the MA real estate market we will need to see how Massachusetts home sale prices and transaction volume fare in the upcoming spring 2011 home selling season.
But at least recent signs have been positive.
Copyright ©2011 02038.com