January home sales in Massachusetts rose 6.7% from year-ago levels, making last month the best January in the Commonwealth since 2007 in terms of single family home sales volume. The January uptick in single family home sales in MA came on the heels of a widely-reported sales surge in the state last December.
Price decline spurs sales
Over the last few months, home buyers have been taking advantage of recent declines in MA home prices to secure good deals.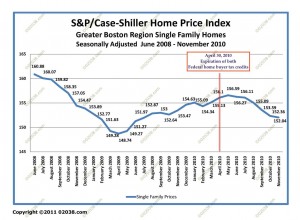 This buyer activity resulted in January's increased closings, shown in blue on the chart below: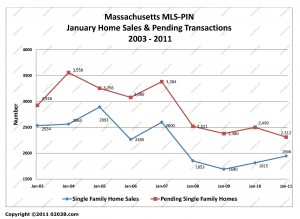 Sales up without help from tax credits
The increased home sales volume is especially impressive because it occurred with no tax credit stimulus from the Federal government.
The Federal home buyer tax credits were artificially supporting the housing market back in early 2010. The credits expired at the end of last April, triggering a pronounced market slump during the second half of the year.
The pick up in home sales over the last two months may be early signs that the MA real estate market is finally getting back on its feet.
Franklin, MA home sales up modestly

Single family homes sales were also on the rise in Franklin, MA last month.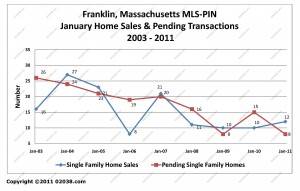 Although only 10 single family homes in Franklin listed on the MLS sold in January, last month was the best January for home sales in Franklin, MA since 2007.
Pending sales down
Pending sales (homes that went under agreement but are not yet sold) in Franklin and throughout the state were down in January.
This would usually be a negative sign for the housing market.
However, it may be safe to discount the significance of January's downturn in pending sales, given how many snow storms hit Massachusetts last month.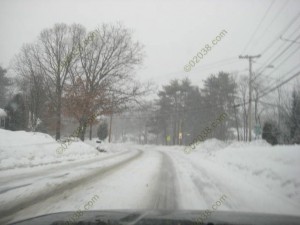 In fact, the number of homes that did go under agreement in January was notable in light of how intensely lousy the weather was for most of the month.
So all in all, January's housing market activity in Massachusetts is encouraging!
Copyright ©2011 02038.com