US car sales have apparently been a highly reliable leading indicator of future housing market activity over the last 30 years.  The recent surge in auto sales may signal better times ahead for the housing market both in MA and across the country.
As reported in the current issue of Bloomberg BusinessWeek, whenever new car sales rise, home sale activity picks up soon thereafter.  And since 1980, whenever the auto industry has gone into a funk, US homes sales have slumped as well.
Chart showing link between car and home sales
The strong correlation between auto sales and home sales in the US is displayed on the chart below: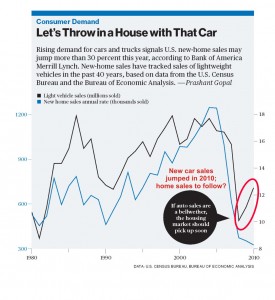 The chart was prepared by Bloomberg BusinessWeek and draws on data from the Bureau of Economic Analysis and the US Census Bureau. (I have added emphasis to the chart to highlight the 2010 resurgence in car sales.)
30% rise in US home sales coming in 2011?
As interpreted by analysts at Bloomberg BusinessWeek, the sharp rise in auto sales during 2010 may portend a significant increase in US housing activity in 2011.
Bloomberg BusinessWeek says a 30% rise in home sales during 2011 is possible.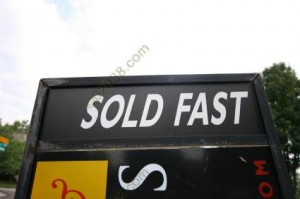 This potential boom in home sales should take place, according to analysts at Bloomberg BusinessWeek, if the housing market tracks the recent increase in new car sales as it has over the last 30 years after every prior significant increase in US auto sales.
Keep your fingers crossed – an increase in home sale activity of that magnitude would be a very welcome development for us all, given the important role housing plays in both the local and national economy!
Copyright ©2011 02038.com