We all know this past winter was a very tough one in Massachusetts. Now that the weather is finally getting better, you may be looking for ideas on how to get the kids out of the house and involved in some fun, wholesome and intellectually engaging activities – without spending a ton of money!
Here are some suggestions for fun things to do with your family in MA (and nearby in RI) during Spring 2011.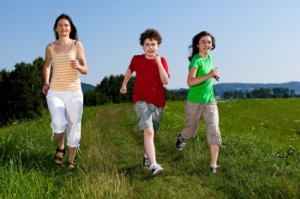 Low cost ideas in two parts
I tried to focus on relatively low cost ideas. But there may be admission fees for many of these suggestions, so please check the website links provided.
The following list is divided into outings you can do on your own when you want and scheduled activities in and around the greater I-495 region of MA.
There is too much content for this topic to display in only one post.
So you'll find suggestions on things you can do on your own in this post as "Part 1."
In a separate post ("Part 2") you'll find the list of scheduled family-friendly activities in and around the greater I-495 region of MA for Spring 2011.
Fun things to do on your own
The sites below represent just a sampling of the recreational areas conveniently located for residents of the greater I-495 region of Massachusetts. One of these may provide a perfect setting for you and your family to get outside and enjoy the warmer weather in MA during Spring 2011.
I could only list a few outdoor recreational resources in this post. There literally are 100s of other parks and nature preserves in Massachusetts. You can click the hotlink for information on all state parks in MA. And you can use this hotlink to locate Mass Audubon nature preserves in the Bay State.
Stony Brook Wildlife Sanctuary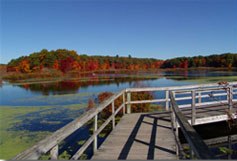 Stony Brook Wildlife Sanctuary
108 North Street
Norfolk, MA
508-528-3140
116 acre site includes a nature center, sanitary facilities, and a pleasant, flat walking trail with boardwalk through a large marsh. This is a great place for children to get some exercise, explore nature and maybe see some large turtles!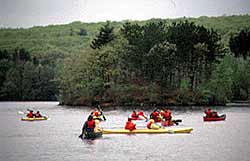 Hopkinton State Park
268 Cedar Street
Rte. 85, Hopkinton, MA
508-435-4303
Straddling the Towns of Hopkinton and Ashland, the Hopkinton State Park offers swimming, fishing and recreational boating access to the Hopkinton Reservoir. You can walk on nearly 10 miles of trails and enjoy lunch at one of the 300 picnic tables and 165 charcoal cooking grills. Restrooms are available.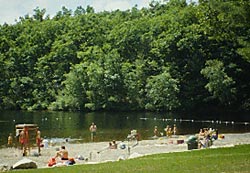 Ashland State Park
Route 135
Ashland, MA
508-435-4303
470 acres encompassing the Ashland Reservoir provide the setting for the Ashland State Park. You can hike, bike, go fishing or have a picnic. During summer there is also swimming.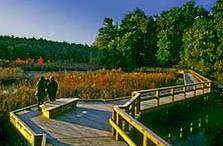 Broadmoor Wildlife Sanctuary
280 Eliot Street
Natick, MA 01760
508-655-2296
There are nine miles of trails at Broadmoor, traversing fields, woods, and wetlands. Be sure to try the quarter-mile trail and boardwalk along Indian Brook and over the marsh to enjoy many scenic views.
Blackstone River and Canal Heritage State Park Trail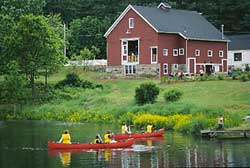 Blackstone River and Canal Heritage State Park Trail
River Bend Farm Visitors Center
287 Oak Street
Uxbridge, MA 01569
508-278-7604
This 1000 acre site offers walking paths along the Blackstone River Canal and Towpath, picnic areas, hiking trails, and canoe and kayak access to the Blackstone River. This site is just one part of the extensive John H. Chaffe Blackstone River Valley National Heritage Corridor which stretches from Massachusetts into Rhode Island.
Purgatory Chasm State Reservation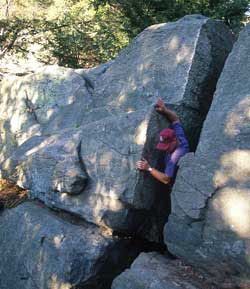 Purgatory Chasm State Reservation
198 Purgatory Road
Sutton, MA
508-234-3733
Wear sturdy shoes and bring a sense of adventure to this unusual natural phenomenon in central Massachusetts: a quarter mile long chasm with steep, jagged rock walls up to 70 feet high. You can picnic, walk on trails around the gorge or try your luck on the sometimes rough and challenging walk through the chasm itself. Just be careful in the chasm! You have to clamber over large boulders, some of rocks can be sharp, and the footing can get challenging. Not good for the very young, the infirm or those who seek only a relaxing walk!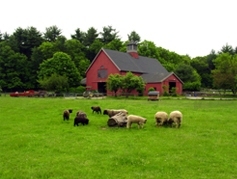 Drumlin Farm
208 South Great Road
Lincoln, MA 01773
781-259-2200
Drumlin Farm in Lincoln, MA combines an operating farm, a wildlife reserve (including a nature center) and a local tourist attraction (the ice age era drumlin). There's a lot to do at Drumlin Farm for almost everyone! You can view farm animals, look at wildlife exhibits, participate in one of the many programs and of course walk to the top of the drumlin, one of the highest elevations in Metro-Boston.
Click on the hot link to go to Part 2, to see scheduled activities in and around MA for Spring 2011.
Copyright ©2011 02038.com