Greater Boston home prices rose in January, according to figures released last week by Standard and Poors.
2nd monthly rise in a row
The seasonally-adjusted S&P/Case-Shiller Home Price Index for Boston rose 0.5% in January, marking the second consecutive month that home sale prices increased in the metro Boston area.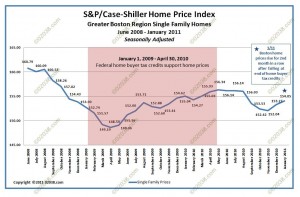 Due to a two month reporting lag, January's results  are the most recent reflected in the Index.
Home prices still below 2010 levels
Despite the uptick in home values over the last two months, the seasonally adjusted Boston Index remains 0.6% below year-ago levels.
According to the seasonally adjusted Index, post-recession Boston home prices peaked in May 2010 right after the April 30, 2010 end of the Federal home buyer tax credits.
Once that crucial market support was removed, Greater Boston sale prices stagnated for a couple of months, and then entered a pronounced slumped beginning last August.
Seasonally-adjusted Greater Boston home prices bottomed last November, and have turned modestly higher since then.
Unadjusted Boston Index not a reliable guide
Note that Standard and Poors issues an alternate Case-Shiller Home Price Index for Boston, one that is not seasonally adjusted.
Most of the media reports you will see on the MA real estate market refer to that unadjusted Index.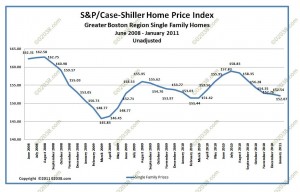 But the unadjusted Index suffers from great seasonal fluctuations, reducing the reliability of that Index as an accurate gauge of the direction of Massachusetts home sale prices.
Stage set for spring price rebound?
Because of the two month lag in reporting in the S&P/Case-Shiller Home Price Index, we will not know how spring 2011 home prices are faring in Boston for several months.
But due to the increased activity I as a real estate broker have been witnessing recently in the local market,  I think we will see a continued improvement in MA home sale prices during the spring of 2011.
U. S. housing market about to recover?
There certainly has been a lot of negative real estate news recently.  Massachusetts home sale volume is down, and home prices are falling many U.S. metro regions.
However, CNN/Money.com recently posted an article from Fortune Magazine that bears reading.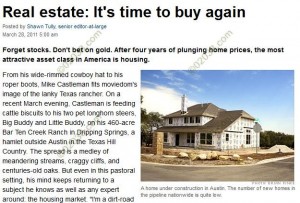 The article essentially issues a call to buy real estate now.
Nothing stays down forever and the contrarian thinking underlying the article makes a lot of sense.
Those buying a home or investment real estate in 2011 may find themselves several years from now saying 'I can't believe I paid so little for the place back in 2011!'
Copyright ©2011 02038.com