It would take 10 and a half months for all the single family homes currently for sale in Massachusetts to find buyers according to data maintained by MLSPIN, the largest MLS system in the Bay State. That's a nearly 17% jump in housing inventory levels from last year at this time.
2010 housing inventory reduced by home buying rush
Last April there were 9 months of housing supply in MA. Housing supply was whittled down last April by a home buying surge as buyers across the state rushed to secure homes to qualify for the then-expiring Federal home buyer tax credits.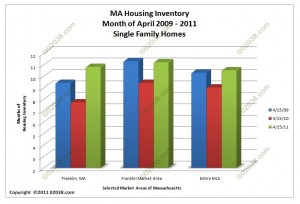 With the tax credits and the April 2010 buying binge now just fading memories, Massachusetts housing inventory has risen roughly back in line with April 2009 levels. Seen in this context, the increased inventory of homes for sale in Massachusetts compared to last year may not represent a worrisome new trend, so much as a return to a slower pace of home sales in the absence of the Federal tax credits' stimulus.
Inventory up in I-495 market around Franklin
According to MLSPIN, the standing inventory of homes for sale in the greater Franklin, MA region has also bulged this year.
There are currently 11.3 months of supply of single family homes for sale in the I-495 communities surrounding Franklin, compared to 9.4 months last April.
Just as with Massachusetts overall, this increase puts the region's housing inventory on par with April 2009's levels.
In the Town of Franklin, MA itself, there are 10.8 months of homes for sale this April (compared to 7.7 months last year at this time and 9.4 months back in April 2009).
Absorption rate analysis may be misleading this spring
Tracking changes in housing inventory is one time-honored way to monitor the health of the real estate market. (Click the hotlink to learn more about absorption rate analysis.)
Rising inventory traditionally is cited as a sign of a real estate market in trouble.
Housing inventory today certainly is higher than it was one year ago.
However, traditional absorption analysis may provide an overly pessimistic take on the future direction real estate in Massachusetts in 2011.
Two factors to weigh
There are two factors lending credence to the suggestion to discount the importance of today's higher inventory levels.
Back in April 2010, housing inventory was depleted by that home buying rush to qualify for the Federal home buyer tax credits. So April 2010 is arguably a poor measure against which to judge the real estate market in April 2011.
Secondly, the 2011 home buying season has been slow to start.
In past years, the "spring" market sometimes has gotten under way as early as mid-February.
This January and February saw very heavy snowfall. Protracted periods of bad weather lingered well into March. This has slowed the advent of home buyer activity this spring.
So a 'wait and see' attitude with absorption rate analysis appears warranted.
Market watchers should check back with this blog in coming months for upcoming hosing inventory reports.
We will watch the local real estate market with a keen eye, looking very carefully for some much-hoped-for signs of gathering strength.
Copyright ©2011 02038.com