The real estate market in Massachusetts showed signs of life last month, picking up some much-needed momentum after a truly dismal February.
Home sales for the month just ended were stronger than might reasonably have been expected, coming as they did immediately after the worst February for MA real estate in recent memory.
Bad weather hurt early 2011 home sales
The heavy snows of early 2011 materially contributed to February's dire home sales results.

By early March, however temperatures were warmer and the four foot deep snow pack was melting.  The better weather and improved travel conditions made buying homes a lot easier.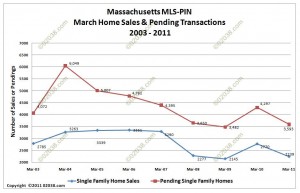 And buyers responded, helping lift MA home sales activity to more normal levels.
Better than 2009, weaker than 2010
While home sales activity was far from robust in MA last month, the number of closed sales and pending home sales were both above the lows set back in March 2009 when the fears of a new Depression were at their peak.
March 2011 homes sales and pendings were below year ago levels, reflecting ongoing weakness in buyer demand.
But keep in mind that March 2010 was the height of rush by home buyers to purchase housing in order to qualify for one of the federal home buyer tax credits.
Real estate market better in Franklin, MA
Single family home sales in the Town of Franklin, MA for March were ahead of last year's pace.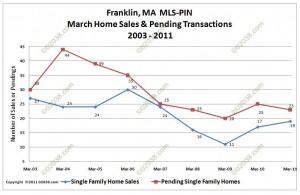 This is impressive given the market stimulus back then from the Federal home buyer tax credits.
Franklin's pending home sales volume in March 2011 was slightly lower than last year's.  But pending volume was higher than it was in March 2009.
Certainly, March's home sales figures were not booming.  But at least they were an improvement over February's dismal results.
Copyright ©2011 02038.com