The Massachusetts economy continues to add jobs, building on recently reported momentum.  Experts predict that the number of MA jobs will regain pre-recessionary highs by 2013 as the economic resurgence intensives.
Better days ahead for MA housing
The improving jobs outlook should help boost local consumer confidence in coming months.  This should create conditions that will eventually lead to new vigor in the Bay State's housing market.
Links to news articles on April MA jobs growth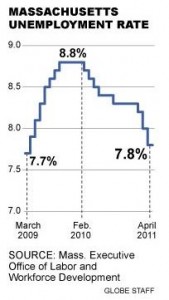 "The state unemployment rate in April fell to 7.8 percent, down from 8 percent in March, which was then the lowest point in nearly two years . . . The state's economy added 19,500 jobs last month. The private sector added 20,500 jobs while government lost 1,000 jobs . . ."
Eagle-Tribune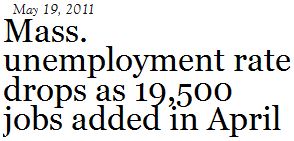 "Massachusetts added thousands of new jobs in April, which helped drop the unemployment rate by 0.2 percent since March."

"Massachusetts added 19,500 jobs in April, the state's Executive Office of Labor and Workforce Development reported Thursday, lowering the total unemployment rate two-tenths of a percent since March to 7.8 percent. Preliminary April job estimates show 3.2 million jobs in Massachusetts, the office said. Massachusetts remains below the national rate, which is 9 percent."
Copyright ©2011 02038.com