Demonstrating its commitment to innovative and effective education, the Franklin, MA High School is experiencing great success with its Franklin Arts Academy (FAA). The FAA functions as a school within a school. It helps boost the academic achievements of artistically talented Franklin students who might otherwise struggle in a traditional school environment.
The fact that this program has been implemented in the midst of all the pressure being applied to school budgets across Massachusetts is testament to the quality and dedication of educators in the Franklin MA public school system.  Just another reason why Franklin's schools deserve our support.
Talented visual and performing art
The FAA held its first annual Art Festival one evening last week at the High School.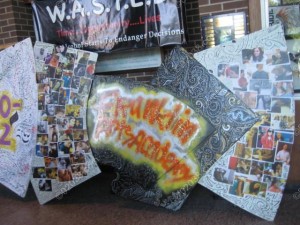 Showcased was an impressive collection of the students' creativity.
Video of Arts Festival
The visual art and live performances at the Festival were enlightening.  The  evening made a very good statement about the Franklin public school system.
Here's a short video of the Festival:
First year of operation
Only high school juniors were allowed to enroll in the inaugural year of the FAA.  In future years, the curriculum will to open to seniors, with the sophomore class perhaps to follow.
The FAA is designed to help students prosper academically through their interest in the arts.  Students engage in a special curriculum that integrates several academic courses with instruction in the arts disciplines of their choice. Students also take elective courses outside the Academy.

Click the hotlink to learn more about the classes offered at the FAA, or click the image above.
Here's a link to a recent newspaper article on the FAA.
Franklin High School's excellence in action
It says a lot about the quality and dedication of the educators in the Franklin Public School system that the High School has implemented such a forward-thinking and creative program that truly helps students.
In these times of budget cuts and municipal layoffs, it is refreshing to see such dedication to the ideals of public education.  Please remember this the next time you hear complaints about local real estate taxes and municipal spending. Support your public schools!
no images were found
Copyright ©2011
02038.com