The inventory of homes for sale in Massachusetts swelled a whopping 21% in June compared to year-ago levels.  The rise in MA housing inventory this year lends credence to the recently-announced consensus forecast for a possible decline in MA home prices for the rest of 2011.
Home prices to rise in 2012?
But the consensus forecast also calls for a home price rebound in 2012, so what gives?  Is now the time to buy a home in Massachusetts?
The answers may lie in putting today's inventory levels in context with both 2010 and 2009 supply: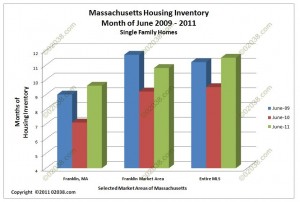 When viewed as depicted in the chart above, the current quantity of homes for sale in MA seems more consistent with a market seeking equilibrium after the end of the Federal home buyer tax credits in 2010 and hopefully getting ready for a stronger 2012.
Supply of MA homes way up over 2010 levels
In the three regional MA markets tracked by this blog, the supply of homes currently for sale is substantially higher than 2010 levels.
Using data supplied by MLSPIN, there is an 11.5 month supply of single family homes for sale in Massachusetts.  This is a 21% increase in standing inventory over the 9.5 months of inventory in June 2010.
The situation is similar in the Town of Franklin, MA (26% bulge in supply over June 2010) and the regional market surrounding Franklin (17.4% increase).
Current inventory comparable to 2009 levels
But today's housing inventory looks dangerously bloated only if compared to 2010 when supply was depleted by a massive rush to buy homes caused by the two Federal home buyer tax credits.
Once the tax credits expired, the market cooled, sales declined and the inventory of homes for sale began to rise back to 2009 levels.
Compared with the 11.2 months of housing supply that existed 2 years ago in June 2009, today's 11.5 months of inventory in MA is only 2.7% higher.  This may represent more of a reversion to the post-financial-crash baseline rather than a new collapse of housing demand.
While the current supply of homes for sale in Franklin (up 6.6%) and the Franklin regional market (8.3% rise) is more steeply elevated over where it stood in June 2009, these are small market samples that may be subject to more variation than the state-wide inventory readings.
Time to buy?
Current inventory conditions do seem conducive to weakness in MA home prices for the rest of 2011.
But there is nothing in today's housing inventory levels in Massachusetts that make the forecast 2012 MA home price rise improbable.
So now may be a great home buying opportunity; indeed it is according to:
Forbes Magazine and
CBS Moneywatch
Copyright ©2011 02038.com