Condo prices fell during the first half of 2011 at the Stone Ridge condominium community in Franklin, MA.  The $208,643 average selling price for Stone Ridge units recorded on MLS-PIN in the first half of the year represents a nearly 18% decline in values from year ago levels.  Prices now appear compelling at Stone Ridge!
Prices now 30% off market peak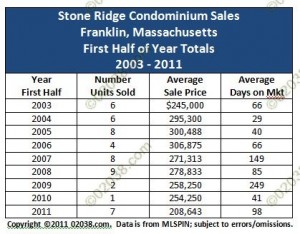 From the chart above, it's clear that average selling prices at Stone Ridge are down sharply from where they were several years ago.  In fact, current unit values at Stone Ridge in Franklin are now at about a 30% discount from where prices were at the market peak in back in 2005 – 2006.
This represents quite a buying opportunity!
Stone Ridge now presents very attractive prices for quality townhomes with garages in a superior location in Franklin, Massachusetts.
Seven sales during first half of year
There was a total of seven sales at Stone Ridge for the first half of the year.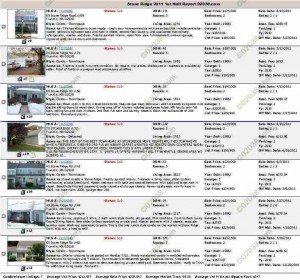 This was a dramatic increase in sale volume from the paltry first half of year year sales in 2010 (1 sale) and 2009 (2 sales).
Of the seven sales, one was a post-foreclosure sale (71 Stone Ridge) and one was a short sale (75 Stone Ridge).
Franklin condo buying opportunity in 2011
The first half of 2011 saw a generally weak real estate market in Franklin, MA and the entire Bay State.
Massachusetts home prices are expected to remain soft for the rest of 2011 and then rebound in 2012.
Prospective home buyers and investors should take advantage of the currently advantageous real estate market and lock-in today's low prices.
Learn more about the Stone Ridge condo community here.
Click the hotlink to access information about why so many people love living in Franklin, MA!
Copyright ©2011 02038.com