What may be looked back on years from now as the home-buying opportunity of a generation continues in Massachusetts real estate. MA home prices and home sale activity keep slipping in 2011, reflecting weak demand amid entrenched uncertainty about jobs and the national economy. This under-demand creates a great opening for home buyers to scoop up homes and investment properties at some real bargain prices.
Consensus: prices to fall in 2011, go up in 2012
Last month we saw that a consensus has emerged among housing analysts and economists. The experts agree that home prices in MA will likely fall in 2011 followed by a rebound in 2012.
The real estate market so far has been confirming the validity of the consensus forecast as home prices and sales volume have been trending downwards in Massachusetts.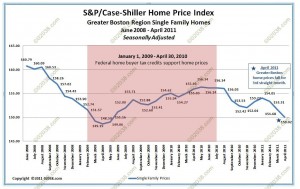 Greater Boston home prices slip for third month in row
Massachusetts single family home prices have been declining for most of 2011 according to the influential S&P/Case-Shiller Index.  The above chart shows the seasonally-adjusted version of the Index for the metro-Boston region.
At 150.02 on the Index, seasonally-adjusted home prices in MA are now just 1% higher than they were at their 148.59 Index low set back in April 2009.  (April 2011 is the most current monthly reading available from Standard and Poors.)
Home sale activity down as well
The number of homes sold in Massachusetts last month (shown in blue in the chart below) hit a new 9 year low.  The data from MLS-PIN confirms persistent weakness in MA housing demand, making now the smart time to buy a home.  Buyers face less competition in the market, giving them leverage to negotiate a good purchase price.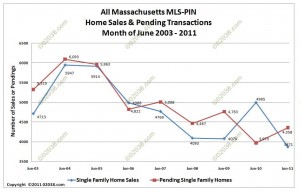 The sharp spike in home closings in June 2010 was solely due to the expiration of the Federal home buyer tax credits.  Buyers rushed sign purchase contracts before an April 30, 2010 qualification deadline and a lot of those deals went to closing that June.
Without that government tax credit stimulus, MA home sales slumped back down in June 2011.
The only good news last month was the fact that pending home sales in Massachusetts (shown in red in the chart above) rose over 2010 production.  But even with that increase, pending home sale volume in MA remains at depressed  levels.
News the same in Franklin, MA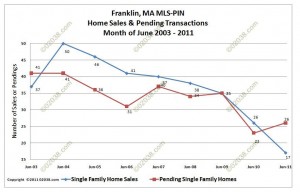 The chart pretty much says it all: June 2011 was a weak month for home sales in Franklin, MA.
The case for buying in 2011
Bottom Line just published an insightful article on the U.S. housing market:

The upcoming presidential election creates a powerful incentive for the current administration to spur housing activity by encouraging buyer demand:
"The housing market will rebound strongly when the federal government starts to encourage rather than discourage making mortgage loans . . . Next year is an election year. The president is no doubt aware that his odds of reelection improve dramatically if unemployment falls significantly before the conventions early next September. The most effective way to significantly reduce unemployment is to increase home construction, which in normal times provides huge numbers of jobs… and the most effective way to boost home construction is to make it easier for would-be buyers to obtain mortgages."
So prospective home buyers should weigh the advantages of buying in 2011 when so few other buyers are actively in the market.
There are plenty of would-be buyers sitting on the sidelines.  These buyers may reenter the market as soon as signs of a housing rebound become clear.
You'll do best to act while others hesitate – that way you'll get a good home at a great price that you'll likely be bragging about to friends five years from now!
Copyright ©2011 02038.com