Massachusetts home sellers finally got some good news this week as Standard & Poors announced a nearly one percent rise in the seasonally adjusted S&P/Case-Shiller Home Price Index for Boston. The gain in the Index for May comes on the heels of declines over the past several months.
MA home prices face tough going in 2011
The 0.98% rise in the S&P's closely watched barometer of regional home prices was the first increase in seasonally-adjusted Boston home values in four months.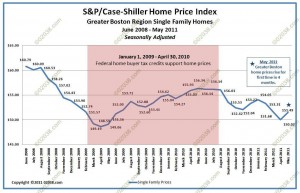 May is currently the most recent month reported on by Standard and Poors.
Two versions of the Home Price Index
Standard & Poors produces two versions of the S&P/Case-Shiller Home Price Index for Boston.  One (shown above) is adjusted for seasonal fluctuations in Massachusetts home values.
The seasonally-adjusted Index generally gives a more accurate reading on the direction of MA home prices than the other (unadjusted) version of the Index.
Price rise more impressive in the unadjusted Index
The unadjusted rendition of the Index shows a much more robust 2.66% rise in Greater Boston home prices in May.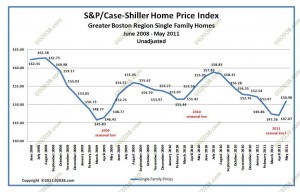 This marked the first rise in the unadjusted Index since way back in July 2010!
One month's data not a meaningful trend
No matter how welcome May's Index readings are, one month's data does not make a dependable, enduring trend.
A recovery in local home values may be a ways off.  Earlier this year, a consensus of housing experts said we'd have to wait until 2012 for a real rebound in MA home prices.
So from the home buyer's perspective, this fall looks to be an ideal time to buy a home or investment property.
We'll need to see home prices increases over several consecutive months and maybe even an uptick in home values on an annual basis before we can confirm a MA real estate market recovery.
Copyright ©2011 02038.com