Standard & Poors announced yesterday that Greater Boston home prices rose an impressive 5% over the last two months.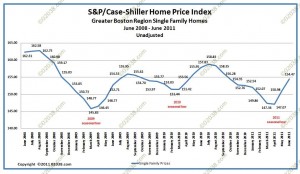 The startling news is contained in the non-seasonally adjusted S&P/Case-Shiller Home Price Index for Boston which climbed 2.3% in June, after leaping 2.7% the month before.
Good news tempered by seasonally adjusted results
Although the 5% jump in MA home prices should be a wake-up call to prospective home buyers who have been sitting on the sidelines, MA buyers may not need to panic yet: the seasonally adjusted version of the Case-Shiller Home Price Index for Boston shows a much less buoyant 1.7% rise in MA home prices over the same last 2 month period.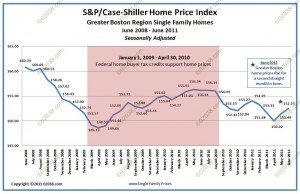 The seasonally adjusted Boston Index rose +0.69% in June after increasing nearly one percent in last May.
While these seasonally adjusted increases are respectable, they still leave Greater Boston home prices 2.3% below where they were in June 2010 and just 2.7% higher than the market low set back in April 2009 during the nadir of worldwide financial crises.
Buyers need to take heed
Whether you use the exuberant 5% unadjusted home price increase figure or the more modest 1.7% rise on a seasonally adjusted basis, the fact remains that Greater Boston home prices have risen over the last 2 months reported on by S&P.
This illustrates the danger of holding off on a home purchase hoping to buy at the absolute bottom.  Home prices tend to lurch upward and downwards in spurts and you may find yourself on the wrong end of a market move if you try to time the Massachusetts real estate market.
If you need to buy a home, by all means do so now.  Interest rates are low and there are lots of affordable homes from which to choose.
I honestly believe that in five years home prices will be a lot higher than where they are today.
You will be very happy then that you bought your home or investment property at today's attractive prices and great mortgage interest rates!
Copyright ©2011 02038.com