Home sales rebounded strongly across Massachusetts in July, rising 19% from their levels of one year ago. July's healthy sales figures mark the first notable pick up in housing demand in the Bay State since the Massachusetts real estate market essentially tanked last summer after the expiration of the Federal home buyer tax credits. MA housing demand has remained generally sluggish for the 12+ months since then, so July's home selling strength is long-awaited good news.
July sales way up over July 2010 levels
The +19% jump in MA homes sales last month over July 2010 production levels may be an early sign of a market seeking to regain its footing.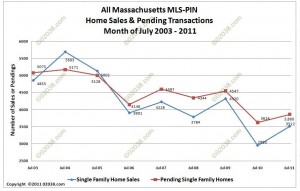 July's good performance comes on the heels of the announcement late last month by Standard and Poors that Greater Boston home prices recently rose for the first time in months.
The Franklin, MA real estate market likewise shared in the good sales volume of the month just ended: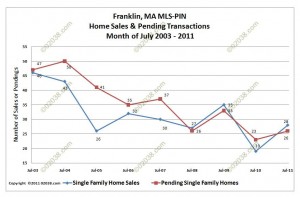 Homes are selling
It is way too early for unbridled optimism, but a recent personal experience of mine lends credence to the suggestion that there is potential for Massachusetts home sellers to do well in today's market.
I sold an appealing antique home in Westborough for full price in less than a week of marketing time!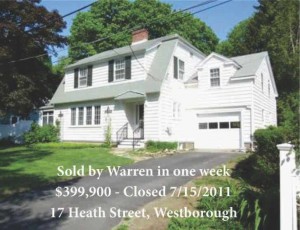 The excellent location contributed to this quick sale, but this does prove that if you price your Massachusetts home correctly, the property will sell!
Market has a long way to go
If you are a prospective home buyer or real estate investor, let July's sales boost motivate you to grab a good deal; there are still considerable bargains to be had.
Despite the strong sales figures for July, a look back at July home sale results for years past shows how far MA real estate has to go before regaining the vigorous activity levels of the 2003 – 2005 boom years: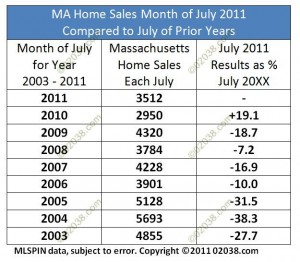 July 2011's results were only 7.2% off the pace of July 2008 and 10% below that of July 2006, so in that context today's market activity is encouraging.
But the difference in home sales activity is a lot greater when July 2011's results are compared to July 2005 (-31.5%) and July 2004 (-38.3%).
Smart time to trade-up or buy your first home
Clearly in light of those latter percentages, the turnover of homes in the current market is still greatly reduced. Today's buyers are being cautious and there are fewer of them.
For many practical reasons, that relative lack of demand means now's a highly advantageous time to buy your first home or trade up/out to a better home.
The home of your dreams costs a lot less than it did in 2005 and mortgage interest rates are very low. That means your cost of ownership is low. If you own a home, you CAN sell it quickly and for a fair price; you just need to price properly and have an expert marketing representative.
So if you are thinking of buying your first home or moving to a better one, Fall 2011 looks to present an ideal opportunity!
Copyright ©2011 02038.com