Real estate is a lagging economic indicator.  Home prices and property sales usually trail movements in the general economy.  When a new up cycle gets underway, real estate is typically one of the last sectors of the economy to benefit.
So it was no surprise earlier this week when several upbeat developments in the US economy made the news at the same time that Standard and Poors announced a lackluster performance for Greater Boston home prices for the month of September.
Boston home prices slip
Greater Boston home prices fell 0.7% in the latest edition of the S&P/Case-Shiller Home Price Index released this week by Standard and Poors.
Both the seasonally adjusted S&P/Case-Shiller Index for Boston . . .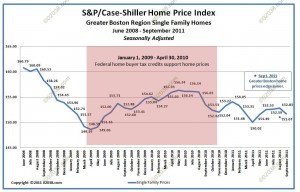 . . . and in the non-seasonally adjusted version of the Boston Index . . .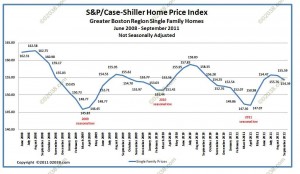 . . . showed the same percentage drop in values for September.
Both the seasonally adjusted and the non-seasonally adjusted versions of the Index show identical declines for the last 12 months as a whole.  Both Indexes are down -1.2% compared to September 2010.  On both Indexes however, Boston home prices remain above their lows set back in March/April 2009.
Good economic news belies weak home prices
During the same week as Standard and Poors made its announcement about the drop in Greater Boston home prices, several items of good economic news hit the wires.
US car sales strong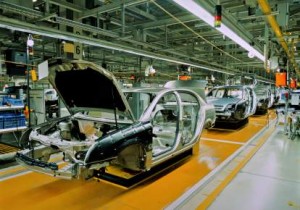 Sales of automobiles in November were very brisk with several automakers reporting double digit gains.
Early Holiday retail sales up sharply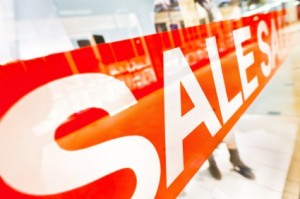 Consumer spending was very strong in the days after Thanksgiving.  The all-important Holiday spending season is getting off to a booming start this year.  The consumer is king in the American economy.  U.S. businesses are currently very profitable but management has been reluctant to hire new workers in the face of sluggish consumer spending.  If Holiday sales continue strong, 2012 may be much better year for everyone.
US now a net fuel exporter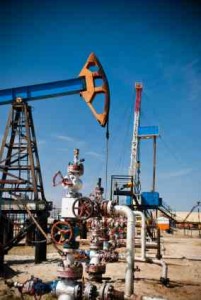 The startling news that the US is now a net fuel exporter marked a potential sea change in world economics.  If we can permanently reduce (or even eliminate) our decades-long massive trade deficits in oil in coming years, the US economy will reap profound benefits.
Look beyond the near term
There are many reasons to be optimistic about America's future.  And the Massachusetts economy is doing much better than many other regional economies in the US.
So don't get caught up in the short term ups and downs of area home prices.  Because of the enduring strengths in Massachusetts and America as a whole, the value of MA real estate likely will be a lot higher in a 3 – 5 years than it is now!
Copyright ©2011 02038.com