MA home sales in November rose an impressive 20% over year ago levels, according to data maintained by MLSPIN, the dominant MLS in Massachusetts. The rise extends a rebound in sales volume that has developed over the past few months.

If the recovery in home sales continues into 2012, it may mark the Bay State's definitive emergence from a protracted period of weak home sales that came on the heels of the expiration of the Federal home buyer tax credit programs back in 2010.
Sales on par with pre-crisis 2007
This November's home sales are significant not just because they exceeded the weak results of one year ago.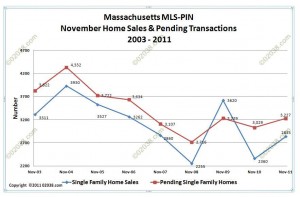 Last month's sales exceeded November 2008's production and were roughly on par with sales in November 2007, before the world financial crisis.  This is an encouraging sign of the real estate market building momentum.
Pending sales also rebounding
It was also good to see that pending sales in November 2011 were up significantly.  November's pendings equaled 2009 levels, which were inflated by demand spurred on by the Federal tax credit programs.
Franklin, MA doing well
Homes sales and pending transactions in Franklin, Massachusetts last month mirrored results statewide: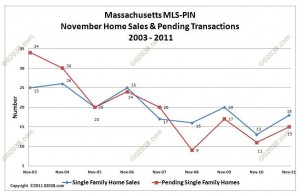 November 2011's production was up sharply in Franklin over the depressed levels of November 2010.
Federal tax policy skewed home sales in for past few years
November sales stats over the last few years clearly show the impact of Federal tax credit policy.
The Feds got started intervening in the real estate market in 2008 with a refundable tax credit to qualifying home buyers.  The 2008 credit had to be repaid.  It was in effect a tax-free loan and proved only moderately successful in stimulating home sales.
Sales exploded in 2009
2009 saw a new and improved Federal home buyer tax credit.  Because it did not have to be repaid it proved wildly popular.  This tax credit caused widespread increases in home sales volume and prices.
The 2009 tax credit was originally scheduled to expire in November 2009.

Massachusetts homes sales in November 2009 exploded some 60% above November 2008's sales volume as many buyers rushed to close home purchases before the end of that month.
Sales collapsed in 2010
As it turned out, the tax credit did not expire as scheduled in November 2009.
Instead the Federal government extended the credit through April 2010 and created a second homebuyer tax credit.  The second credit was also set to end in April 2010.
Home buyers responded by going on a tax credit fueled bender. Home sales surged from the end of 2009 right until the two tax credits expired April 30, 2010.

Then the party was over. By mid-2010 the real estate market was not a pretty sight.  Homes sales and prices withered.
By November 2010, Massachusetts homes sales were down nearly 35% from the year before.
Back on track for 2012?
After protracted weakness that lasted from mid-2010 well into 2011, home sales have been recovering in Massachusetts.  The strong results for November 2011 may be setting the stage for continued improvement in the local real estate market for 2012.
Copyright ©2011 02038.com