Metro-Boston is overdue for a real estate rebound, according to a report just released by Forbes, the highly-regarded publisher of business and financial news.  In the report entitled "Cities where Real Estate is Ripe for a Rebound", Greater Boston ranked in the top 3 US metropolitan areas most likely to see a recovery in home prices and sales activity.
Top 3 US cities ready for recovery
Forbes hired a real estate research firm to analyze housing and economic data for the 100 most populous cities in the US, looking for local housing markets that are at the bottom of their real estate cycles and poised for better times ahead.
The top 3 cities on the Forbes list of the best candidates for a real estate rebound were San Jose, Houston and Boston: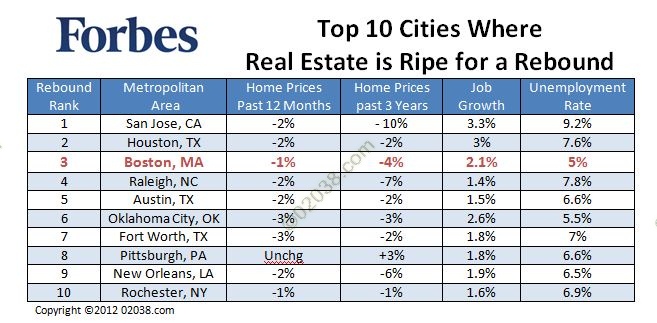 Here's what Forbes had to say:
"Real estate experts . . .  agree that price fluctuations of 3 percent or less generally indicate that a market is stabilizing. If a city hovers within that range for several quarters or a year, it's probably safe to say that market has found its bottom. All of the metro areas on our list have almost undoubtedly found their bottoms." (Emphasis added.)
See the Forbes report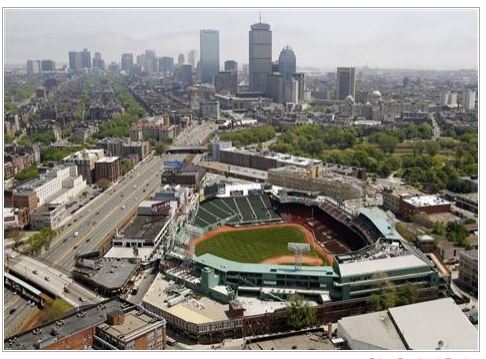 Click on the hotlink or on the image above to access info on all the top ten cities in the Forbes report.
What this means for MA home buyers
If you've been on the sidelines of the Massachusetts housing market waiting for prices to bottom, 2012 looks like the year to buy real estate in MA.  Mortgage rates are very low and home prices should start going up in coming years. Investors and first time buyers are in a position today to get a great deal on housing.
Home purchases in 2012 will be revealed to be savvy investments a few years from now.
Contact Warren for help making your smart real estate move a reality!
Copyright ©2012 02038.com