Single family home sales in Massachusetts rose a hearty 36% in February over year-ago levels.  Last month's impressive results follow very strong home sales in January according to data maintained by MLSPIN.  MA real estate's robust showing for the first two months of 2012 may signal that activity during the upcoming 2012 spring home selling season will exceed expectations.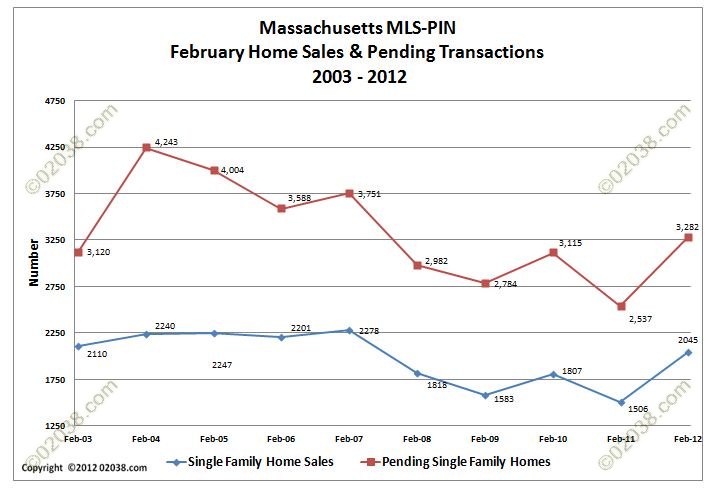 Best February in years
February 2012 was the best February for home sales in Massachusetts for the last four years. Home sales last month on MLSPIN were 36% greater than Feb. 2011, 13% higher than Feb. 2010, and 29% ahead of Feb. 2009's pace.
Pending home sales (under agreement but not yet closed) were also up significantly last month.
You'd have to go back to the boom years of 2004 – 2007 to find a February with stronger home sales than last month.  The vigor clearly is not just due to this winter's lack of snow and relatively warm temperatures.
Good month in Franklin, MA
February saw encouraging real estate sales activity in the Town of Franklin, MA, too.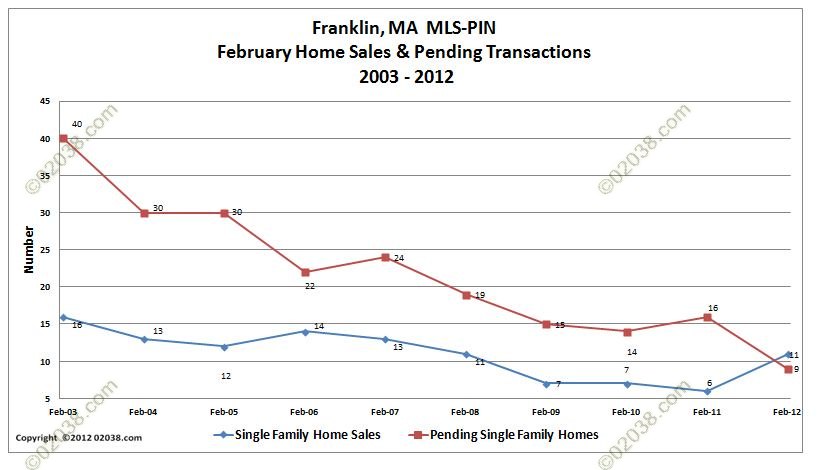 11 single family homes in Franklin sold on MLSPIN last month, compared to only 6 sales in February 2011.  February 2012 was Franklin, MA's best February for home sales since 2008.
Pending sales eased off, but such fluctuations happen with small data samples such as you get when you use sales from one community for a single month.
Take Warren Buffet's advice
Rising home sales often are the leading indicator of a real estate market's recovery.  While home prices are likely to continue to be soft in Massachusetts for a while to come, the increased sales activity is good news for sellers and a warning sign for buyers.
So while prospective home buyers would seem to have time to find a good deal, they may want to heed the 'buy a home now' advice recently offered on cable TV by Warren Buffet and act while rates are so low.  Don't wait until home prices start to rise and sellers gain an upper hand . . . MA home prices will not stay soft forever!
Copyright ©2012 02038.com