The seasonally adjusted S&P/Case-Shiller Home Price Index for Boston rose a miniscule 0.1% in January 2012, breaking a months-long slide.  The seasonally adjusted Boston Index for January inched up to 149.34 (from 149.16 the month before).

First rise in 5 months
January's tiny uptick was the first rise in the Boston Index since August 2011 when it stood at 152.83.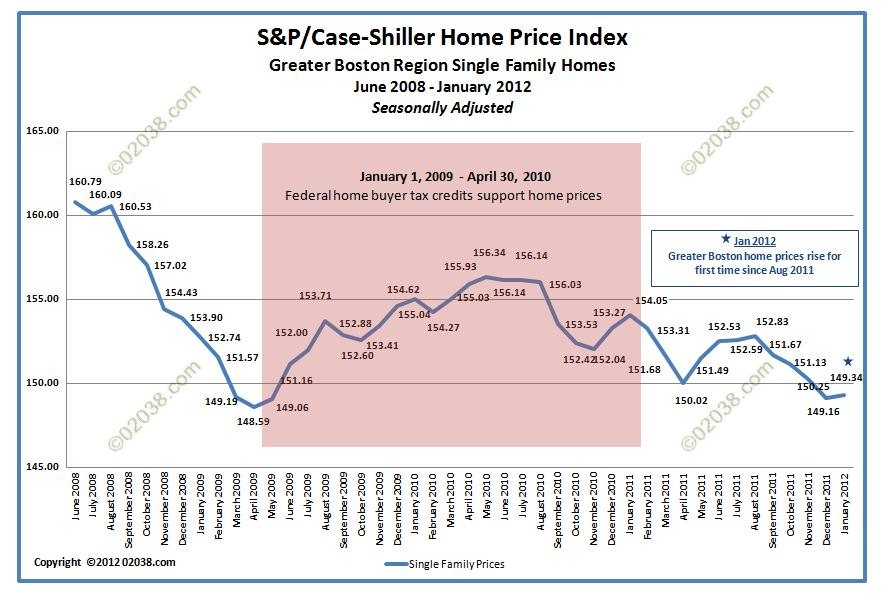 The seasonally adjusted Boston Index currently stands 2.3% below where it was last August.
Greater Boston home prices hover above April 2009 low
The Index now stands a scant 0.5% higher than its April 2009 nadir.  From its low of 148.59 back in April 2009, the seasonally adjusted Boston Index rose in fits and starts during the lifespan of the now-defunct Federal home buyer tax credits (shaded in pink in the chart above).
Once the tax credits expired, the Index settled right back down again.  While in hindsight the Federal home buyer tax credits did little to lift home values in any meaningful manner over the long term, they did enable real estate markets across the US to stabilize at a time of intense crisis in 2009.
January a strong month for MA home sales
January's rise in the seasonally adjusted Index coincided with strong home sales activity in MA for that month.  January's single family home sales and pendings in Massachusetts rose sharply over year ago levels.  This was followed by another month of active sales in February.  So there's the potential for a another rise in the seasonally adjusted Boston Index when the February reading is released next month.
Unadjusted Index lower
Standard and Poors produces home price indices for 20 different US metro areas.  S&P maintains two versions of Case-Shiller index for each of the 20  metro reporting district.  One version is seasonally adjusted while the second version is not adjusted for seasonal variations in home prices.
The news media report seemingly exclusively on the unadjusted Case-Shiller indices.
This is unfortunate for us in Massachusetts as the unadjusted version of the Boston Index provides a very unreliable reading on MA home prices.   It is strongly influenced by seasonal ups and downs.  The unadjusted Index historically rises in the spring and summer and declines in the fall winter in a pronounced rhythmic pattern.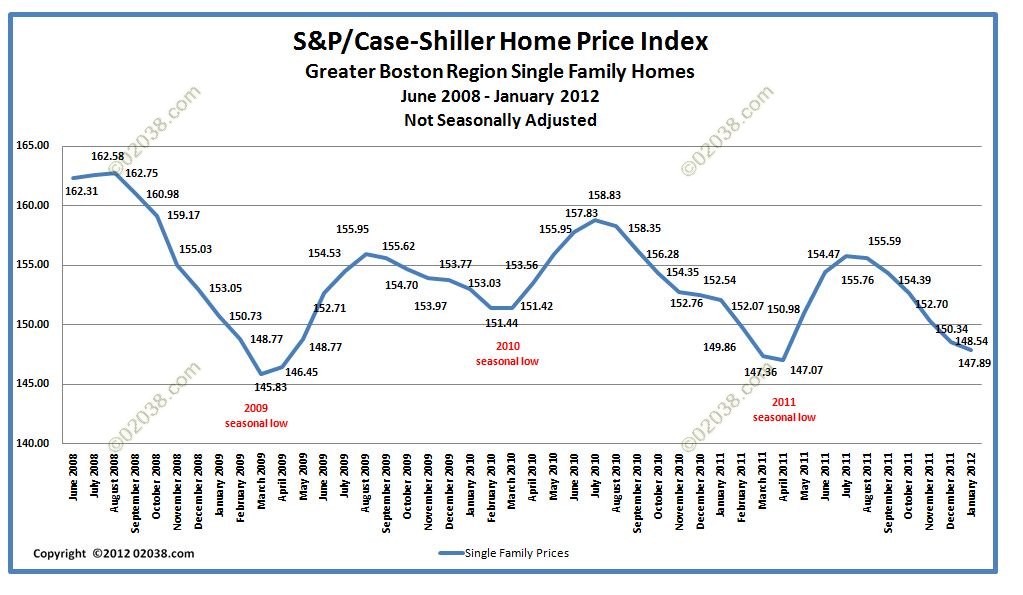 As you see in the graph above, the unadjusted Boston Index fell again in January.  That decline is not all that meaningful as the unadjusted Boston Index usually is weak in January.
We'll keep monitoring both versions of the Boston Index with an eye for any meaningful movements in home prices in Massachusetts!
Copyright ©2012 02038.com