Massachusetts Realtors® haven't been this busy in years as a wild spring home selling season has brought buyers out, deposit checks in hand, throughout eastern MA.  Many homes are selling in weeks if not mere days this spring, in sharp contrast to the sometimes painfully long, slow slog listings faced previously during the Great Recession.
Sustained trend is meaningful

Home sales and pending transactions (listings under agreement but not yet closed) were up 27% and 20.5% respectively in May, compared to year-ago levels.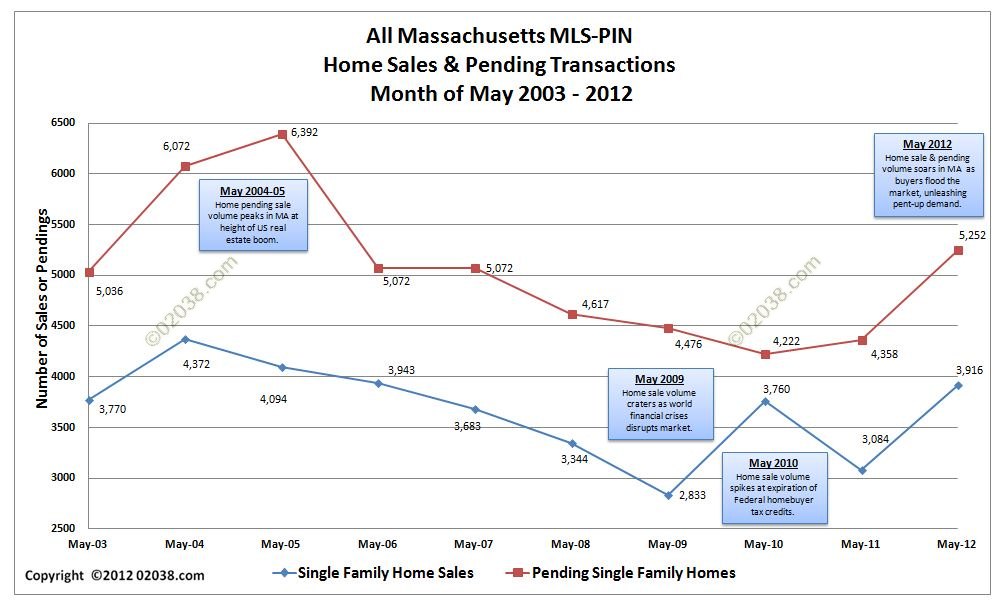 Those remarkable numbers are based on real demand derived from improved consumer confidence and renewed economic vigor in the Bay State. This contrasts favorably with the artificial spurt of home closings which occurred two Mays ago right after the end of the now long-forgotten Federal home buyer tax credits (which expired at the end of April 2010).  That demand withered with the end of the tax credits, leaving the market in the doldrums in May 2011.
What's important about the current strong demand for homes is that it has been going on since last November.  That's long enough now to be called a sustained trend in Massachusetts real estate, which carries interesting implications for MA home prices moving forward (see below).
Year to date stats for 2012 set the stage
From January through the end of May, Massachusetts home sales so far in 2012 are up a remarkable 21.3%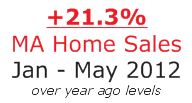 Year to date pending sales have shot up a very strong 24.2%.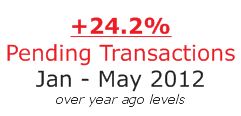 Indeed, the sustained trend of high demand for homes has some Realtors® reporting intense bidding wars for attractively-priced homes, especially in prime communities in proximity to Boston.
The respected MA real estate trade publication Banker and Tradesman recently reported on the bidding war over one home for sale in Cambridge in this way:
"Prior sales in the same neighborhood had been around $800,000, but when a nearby house went onto the market and received five offers, (the listing agent) and her seller decided to list their property for $875,000. They received 15 offers, and the property sold for about 10 percent over list price."
Stage set for higher prices?
The increasing competition for suddenly-scarce listings in Greater Boston may be setting the stage for home price increases in the future.  Home prices typically rise in response to increased demand for homes.  So you should expect to see a statistical jump in MA home prices if demand continues strong.
So far, home prices have not budged in the much-watched S&P/Case-Shiller Home Price Index for Boston.  And the broader US economic recovery is still fragile.  So MA home sellers need to restrain their enthusiasm this summer.  While you may have some pricing power in light of today's strong demand for homes, you would be wise to remain realistic in setting the asking price for your eastern Massachusetts home.
Looking ahead, there's lots of reason for optimism about the housing market in Massachusetts, especially if that now seven months long trend of higher demand for homes continues!
Copyright ©2012 02038.com