The inventory of single family homes for sale in Massachusetts in June is nearly 15% below year-ago levels.  This is a very positive development for the local housing market, coming as it does during an improving outlook for economic growth and jobs creation in the Bay State.  Tighter home inventories coupled with bullish economic fundamentals could spur more home buyers to act which in turn should lead to higher home prices.
Rising home sales tighten supply of available homes
MA home sales are up 27% this year through May compared to the same period last year.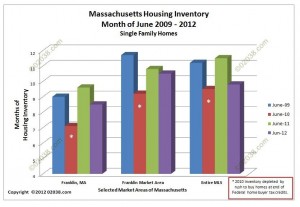 The strong showing for sale volume this year has burned though a lot of sitting inventory.
Indeed, the chart understates the current depleted condition of homes for sale inventory in many market segments in Massachusetts.  It has gotten hard to find quality homes in desirable locations in Greater Boston; the good listings sell quickly, often with multiple bids.
MA economy doing better
The Massachusetts unemployment rate has fallen steadily in 2012, reaching a 3 year low of 6% in May.
A recent Boston Globe article reporting the improving economy had this to say:
"Massachusetts, buoyed by strong technology, health care, and education sectors, has generally recovered faster from the last recession than the nation as whole. The state has added nearly 38,000 jobs since the beginning of the year, an annual growth rate of more than 2 percent a year, compared to a national rate of about 1.5 percent."
Recipe for rising home prices?
Massachusetts appears to be assembling all the ingredients needed for a full-blown housing rebound.
Reduced housing inventory due to increased demand coupled with jobs growth were recently identified by the Joint Center for Housing Studies of Harvard University as the key ingredients for a housing recovery.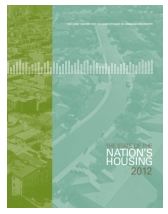 In its newly-released 2012 State of the Nation's Housing report, the Joint Center wrote that  "recovery in the owner-occupied market could strengthen if positive job numbers and tightening markets encourage more households to buy."
That's exactly the situation we have ongoing now in Massachusetts: home sales are on the rise, depleting the inventory of available homes in sought-after segments in many communities; at the same time, the Massachusetts jobs outlook has turned decidedly positive.  If this prompts more buyers to purchase homes in 2012, we should see upwards pressure on MA home prices.
And that would be news very much worth writing about – stay tuned!
Copyright ©2012 02038.com