A rise in the average sale price of units was the highlight of market activity at the Stone Ridge Condominiums in Franklin, MA during the first half of 2012.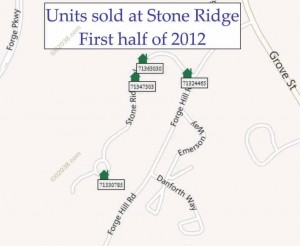 Four units changed hands at Stone Ridge during the first 6 months of the year at an average sale price of $223, 725, an increase of 7.2% over Stone Ridge's average sale price during first half of 2011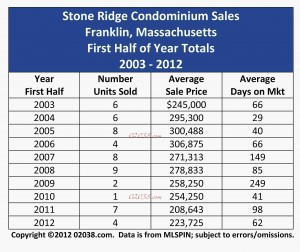 2012's first half sale prices at Stone Ridge were a notable improvement over prices achieved during the first half of 2011.  Days on market shortened significantly.  Fewer units changed hands, but there was a much firmer tone to market activity at Stone Ridge in 2012 compared to recent years.
Lowest sale at Stone Ridge
At $209,900, the lowest priced sale during the first 6 months of 2012 was unit 38.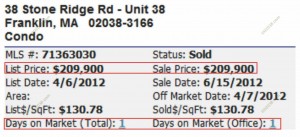 This townhome at Stone Ridge in Franklin, MA found a buyer after only one day on the market.  The buyer paid asking price for this three 3 bedroom unit which has a master bedroom on the first floor and two other bedrooms on the second floor.  This unit also offers a finished basement.
Rest of Stone Ridge sales higher for fewer bedrooms
The other three sales at Stone Ridge during the first half of this year ranged from $227,000 to $230,000 for 2 bedroom units.
Click here or on the image below to download a report on all 4 sales at Stone Ridge during the first 6 months of 2012: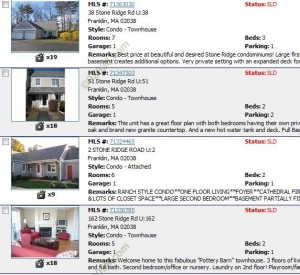 Given the higher-priced sales of units offering only 2 bedrooms, it's fair to say that Unit 38 was a great bargain asking only $209,900!
MA real estate market improving
The overall MA real estate market was much more active in the first half of 2012 than during the same period last year.  Sales were up over 20% with reduced inventories and bidding wars erupting over quality, properly priced offerings.  Read a full report on the first half 2012 real estate market in Massachusetts by clicking the hotlink.
Unit owners at Stone Ridge should be encouraged.  If the Massachusetts real estate market continues to strengthen for the rest of 2012, we may see a continued upswing in sales and prices at this popular Franklin condominium community.
What's your Stone Ridge unit really worth?
If you own a unit at Stone Ridge and are thinking of selling, now is the best time in years!  Buyers are plentiful and interest rates are at historic lows.
Click the hotlink to get a free, no obligation value analysis of your home from an expert at selling condos in Franklin!
Copyright ©2012 02038.com