The MA real estate market turned in a stellar performance in terms of home sale volume in the first 6 months of 2012. Home sales soared while the inventory of homes for sale got pretty skimpy as the  first half of the year drew to a close.  MA home sale prices have not gone up at all so far in 2012, but home buyers beware! The first half of the year certainly appeared set the stage for Massachusetts home price appreciation in the future.

Strong home sales across Bay State in first half of 2012
Home sale volume throughout Massachusetts in the first six months of 2012 was up 20.9% compared to year ago levels.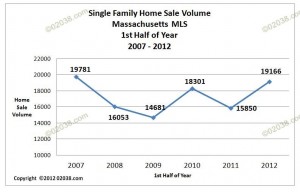 An even more impressive stat is that home sales so far in 2012 are up nearly 5% over the first half 2010. The first 6 months of 2010 saw home sales boom because of then-expiring Federal home buyer tax credits. First half 2012 home sales were up a whopping 30.5% over same period home sales in 2009 when MA real estate withered at the height of the worldwide financial crises.
Tri-county sales also sharply higher
A look at the the regional tri-county market of Massachusetts (Norfolk, Middlesex and Worcester Counties) presents a very similar picture to the one for the overall MA market.
Tri-county homes sales for the first half of 2012 rose 21% compared to the first half of 2011.  Sales during the first six months of 2012 outpaced 2010's first half results by over 5% and outperformed 2009's first six month sales by nearly 32%.
Home sales in Franklin, MA
Statistically, the Town of Franklin, MA experienced less vibrant home sales in the first half of 2012.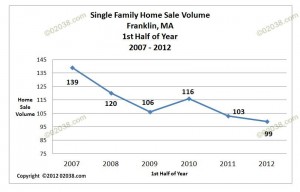 However, Franklin homes were selling briskly throughout the spring 2012 selling season, so the decline in volume likely had more to do with a limited supply of homes (see below) rather than any shift in demand away from this highly-desirable community in the I-495 growth corridor.

Reduced supply of quality homes for sale

As home sales surged ever higher in the first half of the year, the number of homes for sale dropped steadily as 2012 progressed.  To put this situation in the most telling context,
I analyzed the supply of homes priced between $300,000 and $600,000, a segment that comprises the meat of the real estate market in many communities in the I-495/west of Boston region.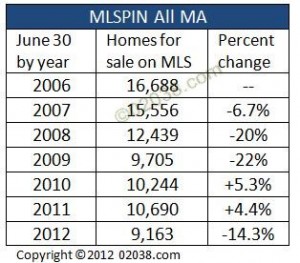 Statewide, the supply of such prime, high-demand homes available for purchase in June 2012 was approximately 14% lower than June 2011.  Looking back at the supply of such homes for June of every year since 2006, the number of such homes available in June 2012 was markedly lower than in any of the previous 6 years.
Tri-county home supplies low
It's the same low supply of prime homes on the tri-county level as well.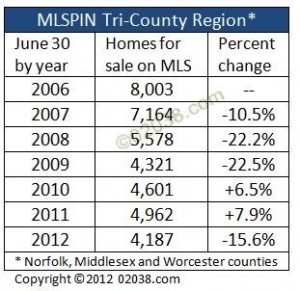 The number of homes priced between $300,000 and $60000 for sale in June 2012 in the counties of Norfolk, Middlesex and Worcester were at their lowest level in going back to June 2006.
Depleted supply of homes in Franklin as well
The supply numbers look no better in the Town of Franklin, MA.
There were only 66 homes in Franklin priced between $300,000 and $600,000 available on at the end of June 2012.  That compares to 87 such homes last year and 108 of these prime properties back in June 2007.
In most markets across Massachusetts, buyers are confronting a limited supply of quality homes to choose from as the second half of 2012 gets under way.  Combine scarcity with soaring home sale volume and 2012 appears to be setting the table for rising home prices in the future.

MA home prices flat in first half of 2012
It's a different story looking  MA home prices. Despite the very strong gains in home sale volume, home prices in MA remained flat during the first half of 2012.
No matter how you slice the sale price data from the first 6 months of the year, home prices stayed very attractive.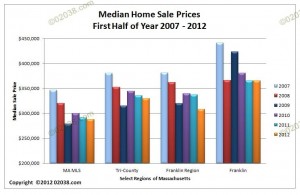 Whether you look at the entire Bay State, the tri-country area (Norfolk, Middlesex and Worcester Counties), the Franklin regional market or even the Town of Franklin, MA itself, median home sale prices in Massachusetts showed little upward momentum during the first half of the years.
Case-Shiller Index confirms flat home prices in MA

The highly-cited S&P/Case-Shiller Home Price Index for Greater Boston paints the same picture of flat MA home prices in 2012: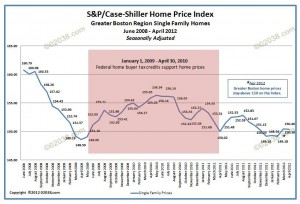 The seasonally adjusted Case-Shiller Index shown above gives the best view of home prices in metro-Boston.  After the price bounce created in 2009 – 2010 by the Federal home buyer tax credits, MA home prices have trended lower.  In 2012, they are essentially at or near their 2009 lows.

Historically low rates create buying opportunity as MA economy improves

Mortgage interest rates moved even lower in the first half of 2012.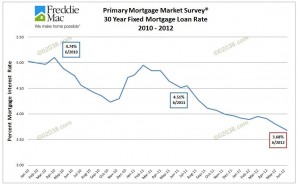 The drop in rates happened due to concerns about events in the Euro-zone and lingering economic uncertainties in the US.  However, the MA economy showed clear signs of health in the first half of 2012 with the Massachusetts unemployment rate dropping to just 6%.

Outlook for home buyers

Reflecting the improving MA economy, MA home buyers in the first half of 2012 capitalized on compelling home prices and mortgage rates at extremely low levels.  Homes sold briskly, depleting supplies of quality homes.
This creates a potentially volatile situation for home prices during the rest of 2012.  Prospective purchasers should be aware that home prices could start to rise if demand continues to consume the supply of available homes.
With rents in Massachusetts rising to extreme levels, clearly 2012 – 2013 is the time to buy.  Those who buy will be very glad they did 5 years from now MA home values look to be a lot higher than they are today.  Investment homes anyone?
Outlook for home sellers
The pace of home sales in 2012 has accelerated.  Homes priced to market are selling quickly.  However, homes that over-price are still getting rejected by the market.
Your opportunity this year is to raise your target selling price to reflect today's stronger demand without overestimating  buyers' response to your home. While the 2012 market continues to punish over-pricing, home sellers should enjoy more leverage negotiating home selling prices and terms.
The best advice to home sellers in 2012 to to take advantage of current market conditions but remain reasonable and accommodating of the legitimate needs of buyers.
If you need help pricing your home or determining your best housing options, click here.
Copyright ©2012 02038.com