The Massachusetts real estate market experienced a strongly positive shift in momentum during the first half of 2012.  Home sales soared as buyers competed avidly for desirable properties.  If Massachusetts real estate continues on the upswing, we should see a better market developing for units at the Franklin Crossing Condominiums in Franklin, MA.
MA real estate started looking up in early 2012
There was a pronounced improvement in home buyer sentiment in Massachusetts during the first half of 2012.  Home sales rocketed over 20% as buyers finally loosened their purse strings to take advantage of low prices, a strengthening MA economy and record low borrowing costs. Read a full report on Massachusetts real estate during the first half of 2012 by clicking the hotlink.
Market upswing not yet evident at Franklin Crossing
Despite the encouraging activity in the 2012 Massachusetts real estate market, the first half of the year saw only one unit change hands at Franklin Crossing.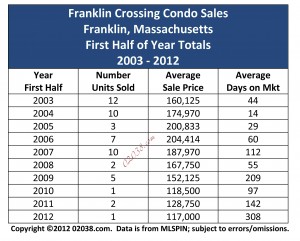 The image above gives the history of sales at Franklin Crossing during the first half of each year going back to 2003.  The one unit sale during the first half of 2012 provides a very small sample from which to derive a meaningful analysis of values at this condo community.  So even though the "average" selling price fell to $117,000, that's based on one sale only so you may not want to read too much into that statistic.
Details on the one sale at Franklin Crossing
Unit 1010 sold for $117,000 on June 29 after 308 days on the market.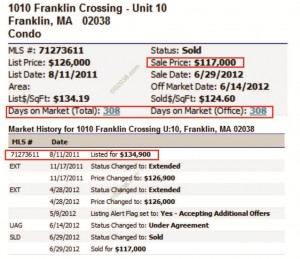 The transfer of this unit is the lowest priced transaction at Franklin Crossing going back to 2002.  It is a 939 sq ft home for which the seller paid $109,000 back in 2000.  Click here or on the image above to download a report on the sale.
Franklin Crossing sales should improve with overall market
Owners of units at Franklin Crossing should take heart in the strong improvement experienced by the MA real estate market during the first half of 2012.  If Massachusetts real estate keeps on track, we should see sales of Franklin Crossing units start to head higher as well.
If you are thinking of selling your Franklin Crossing unit, click the hotlink to get a free, no obligation value analysis of your home!
Copyright ©2012 02038.com