Market stats for the first half of 2012 produced solid reasons for optimism about the future of  prices at Spruce Pond Village, the popular townhouse condominium community in Franklin, MA.
Market started looking up in early 2012
There was a profound change for the better in the MA real estate market in the first half of the year.  Home sales soared over 20% across the Bay State as buyers snapped up bargains, encouraged by the strengthening MA economy and record low mortgage rates.  Read a full report on Massachusetts real estate during the first half of 2012 by clicking the hotlink.
Spruce Pond units start selling
You can trace the improvement in the MA real estate market in the listing histories of the three units that sold at Spruce Pond in the first half of 2012.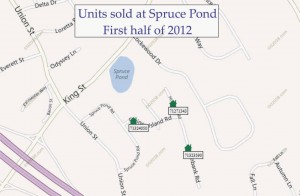 If you can believe it, those three transactions represent the highest sale volume at Spruce Pond for the first half of any year going back to 2006!
Market resistance to Spruce Pond listings in 2011
Two townhomes on Highbank Road (Units 73 and 83) came on the MLS in August 2011.  The market was sluggish then and the units encountered stiff resistance.

Both units sat unsold for months.
Timing makes the difference
31 Quince Island Road received a much better reception from buyers, and it was simply a matter of timing.  That new listing hit the MLS in January 2012 as the market shift was underway.

31 Quince found a buyer in less than 3 weeks!
Once 31 Quince went under agreement, market sentiment continued to improve and the Highbank units started getting serious attention from buyers.
73 Highbank went under agreement in February and by April, 83 Highbank had found a buyer as well.
Report on all three sales
Click here or on the image below to download a detailed report on all the sales at Spruce Pond during the first half of 2012.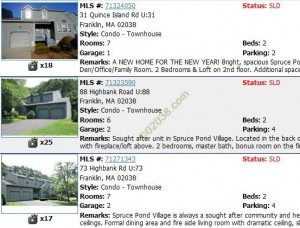 What's the value of your Spruce Pond Village townhouse?
What is so encouraging about the first half of 2012 is the dramatic shift in market sentiment.  It's almost as if a switch was pulled and buyers suddenly started buying.
If Massachusetts real estate continues to improve in the second half of 2012, we should see a stronger pricing environment at Spruce Pond Village.  Its superior location will serve this condo community well.
If you own a townhouse at Spruce Pond and are thinking of selling, now is an ideal time to act.  Buyers are out there and are making offers!
Click the hotlink to get a free, no obligation value analysis of your home from an expert at selling condos in Franklin!
Copyright ©2012 02038.com